1st Gear: Not So Fast
At first glance Ford's announcement that it won't invest in a new Mexican plant to build the Focus and C-Max to use some of that money (the some part is important) for 700 new jobs and electric car production in Michigan seems like great news. And it is, because more American jobs is always good news. But as Ford itself told us, the move had less to do with looming anti-NAFTA and pro-tariff threats from incoming President Donald Trump, although I suspect it had to have influenced Ford's decision on some level.
At any rate, U.S. tariffs likely won't stop Mexican investment and potential job flight south of the border, according to Bloomberg. Why? Because the U.S. is hardly the only country buying Mexican-made cars. Other regions getting them include Europe, Asia and the Middle East, huge markets that aren't dumping their trade agreements with Mexico anytime soon:
Infrastructure in Mexico lags behind the highway and rail network in the U.S., so it actually costs automakers $300 more per car in additional shipping expenses to produce the vehicle in Mexico and ship it to Europe, and an extra $900 to ship it to the U.S.

That means, even after paying significantly less on labor, a car company is walking away with wage savings of only $300 per car—a fraction of what it costs to build and ship in the U.S. The bulk of the savings are tied to Mexico's trade agreements and cheaper parts.
Automakers can save $1,500 per car on cheaper Mexican auto parts. Certainly, a lot of those savings are tied to the lower wages workers in Mexico are paid. But some of these parts are imported to Mexico tariff-free from countries in Europe and Asia, particularly for the foreign automakers who are increasingly investing in Mexico instead of the U.S. Since the U.S. doesn't have as many free trade agreements, some of the automakers would pay extra for some of those parts if they made those models in the U.S., said Bernard Swiecki, senior analyst at CAR.

The same company selling that mid-sized car saves $2,500 per vehicle that it builds in Mexico and ships to Europe because the U.S. doesn't have a trade agreement with the EU. That's more than it saves in parts and wages once shipping costs are figured in.
People often forget how much the auto industry is a global one.
2nd Gear: Will People Buy The Electric Fords?
We're excited about Ford's big move into the electric and hybrid game, especially the hybrid F-150 and Mustang, which make a lot of sense and could actually be fun to drive if they're more LaFerrari than Prius.
G/O Media may get a commission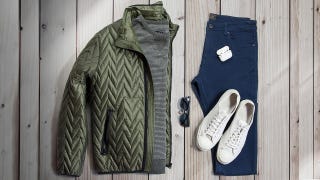 60% off
Jachs NY Fall Sale 60% Off
But this onslaught of products faces the same problem as the Chevrolet Bolt and others: will people buy them, in the near or long-term? Via Bloomberg:
While Ford garnered the most attention for canceling a Mexico factory amid pressure on the industry from President-elect Donald Trump, the automaker also revealed the first details of its ambitious $4.5 billion overhaul of its lineup with electric and hybrid models. The electrified vehicles laid out Tuesday are among 13 such models planned for the next five years that'll account for 40 percent of Ford's showroom offerings, up from 13 percent.

Electric power once appeared the only way to achieve U.S. fuel economy standards that will require automakers to average 50.8 miles per gallon with their lineups by 2025. Yet those regulations enacted by the outgoing Obama administration are anything but certain. In fact, Ford is actively lobbying the Trump team to ease up on fuel economy rules it sees as out of step with a market where gasoline prices are low and SUV sales high. In an interview last month, Ford Chief Executive Officer Mark Fields pointed to a lackluster sales record for electrified vehicles in the U.S. market.

[...] "That plant will add 700 jobs," [Autotrader.com analyst Michelle] Krebs said. "But if it's on vehicles that won't sell well, how sustainable are those jobs?"
Ford is laying the groundwork for its future, and that will be expensive and complicated. But at some point people will have to buy these things en masse.
3rd Gear: GM Up
Will 2016 end up as another record sales year like 2015? We don't know yet, but General Motors had a good December. Via Automotive News:
General Motors' U.S. deliveries jumped 10 percent last month, in the first report that will show whether generous December incentives spurred the industry to another sales record last year.

Volume rose 13 percent at Chevrolet, 5.8 percent at GMC, 2.8 percent at Buick and 3.2 percent at Cadillac, GM said.

GM said its rental sales rose in December but finished 2016 down nearly 74,000 vehicles, or 18 percent, compared to 2015. The company said its retail deliveries — a key priority in recent years — rose more than 3 percent last month.

When other automakers release December results later today, analysts polled by Bloomberg project that industrywide deliveries will come in at a seasonally adjusted annualized rate of 17.6 million cars and light trucks. That would be up from 17.5 million in December 2015, but it's unclear whether that would be good enough to help the industry squeak past 2015's record tally of 17.49 million.
Get excited for sales numbers! I know you are.
4th Gear: Tesla Down
Meanwhile at Tesla, deliveries were down in Q4, which the automaker says was due to some production issues related to new Autopilot hardware. In total the company delivered about 76,000 vehicles in 2016, down from the projected 80,000. Via Reuters:
Tesla said production challenges, which started at the end of October and lasted through early December, shifted vehicle production toward the end of the quarter, resulting in delayed deliveries.

"We tried to recover these deliveries and expedite others by the end of the quarter, time ran out before we could deliver all customer cars," the electric carmaker said.

Nearly 2,750 vehicles missed being counted as deliveries in the quarter due to last-minute delays in transport or because of the inability of customer to physically take delivery.
5th Gear: Take That, Apple
The software war for your car's dashboard just heated up. Via Bloomberg:
Ford Motor Co. and Toyota Motor Corp. have formed a consortium with four medium-size automakers to speed development of auto-industry standards for in-vehicle apps, a step toward preventing Apple Inc. and Google from controlling how drivers connect smartphones to their cars and trucks.

Ford and Toyota said that Mazda Motor Corp., PSA Group, Fuji Heavy Industries Ltd. and Suzuki Motor Corp. joined their SmartDeviceLink Consortium. The non-profit group's goal is to promote more choice in how smartphones get connected to in-vehicle technologies like dashboard displays and voice recognition, and in other programming, Ford and Toyota said in a joint statement Wednesday.

Toyota has resisted offering Apple's CarPlay and Google's Android Auto in its vehicles, citing concern that doing so would diminish safety and security. Ford offers them on all its 2017 model vehicles. But the No. 2 U.S. automaker still wants an open-source software platform that all app developers can use as an alternative to those of Google and Apple.
Those systems work pretty well and the automaker-developed systems are often bad, so we'll see if they can pull it off. Apple and Google are bad at making cars, so maybe the automakers shouldn't get into the software game.

Reverse: Speaking Of Electric Cars
Neutral: What's Your Take On Ford And Mexico?
Good news? Bad news? A harbinger of things to come for other car companies?