Japanese airbag maker Takata has been under massive amounts of pressure to issue a nationwide recall to fix its faulty airbags, which affects more than 14 million cars. Takata was adamant that the problem occured only in high-humidity states, like Florida, but NHTSA just ordered them to go nationwide.
This will be a massive recall, with reverberations across the industry.
Takata didn't really have much choice in the matter, as it turns out. Last week, the National Highway Transportation Safety Administration gave the company an ultimatum – recall all the airbags, everywhere in the United States, or face consequences.
G/O Media may get a commission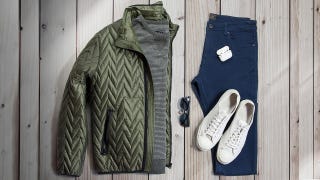 60% off
Jachs NY Fall Sale 60% Off
The deadline was set for this morning.
Said consequences weren't exactly clear, given the little power for extracting real corporate blood that NHTSA has, but the promised legal action and civil penalties were definitely not good. Combined with the ensuing public fallout from the fact that Takata's airbags killed people, Takata knew about it, and then reportedly covered it up, you had a looming storm of a massive hit to the company.
When Japanese regulators announced that they weren't even giving Takata the option of taking a huge legal hit instead of switching out the potentially deadly airbags, it became apparent that the company would be forced to do the same in the US.
Up until today, Takata had to tried to limit the recall to Florida, Hawaii, Puerto Rico and the Virgin Islands, and expanding it nationwide would be incredibly expensive for the company. But the absurdity of only recalling cars in Florida, when humidity is a condition that exists over vast swaths of the continental US, was plainly ridiculous. Not to mention the reality that cars in those places could eventually be sold elsewhere by their original owners.
We don't have any hard numbers yet on what this will cost Takata, but when we do, we'll find out.
Takata airbags have already been linked to four deaths and over 30 injuries, and possibly many more than that. They're not the only ones to walk away smarting from this, either, as the Feds have been scrutinizing automakers a lot more closely in general since this all started. Honda, for instance, was found to have underreported 1,729 claims of injuries or death, and the government has been putting the heat on Chrysler, too.
We can only hope that it's enough.
(Though it probably won't be.)
Photo credit: Getty Images