This is The Morning Shift, our one-stop daily roundup of all the auto news that's actually important — all in one place every weekday morning. Or, you could spend all day waiting for other sites to parse it out to you one story at a time. Isn't your time more important?
1st Gear: This Means War
A day after being ordered by the National Highway Traffic Safety Administration to expand the recall of their airbags beyond humid clients, Takata has refused to do so. This proves that NHTSA orders are essentially toothless and that Takata is probably clueless.
NHTSA is arguing that the claymore airbags are blowing up in non-humid environments, proving that they're too dangerous to remain in any car. Takata replied by saying that their tests indicate the malfunction that sends shards of metal into car accident victims is only present in high-humidity environments (questionable) and that expanding the recall would slow down getting parts to people who are at greater risk (probable).
Where does this end? Probably court.
Oh, and then there's this little tidbit from Bloomberg's report on Takata's rejection:
The company was told by Mexico's government to take 171 measures to improve health and safety at a plant tasked with making millions of replacement air bags.

An Aug. 13 inspection of the factory in Monclova, Mexico, was prompted by Takata's problems complying with a self-management program on health and safety in the workplace, the nation's labor ministry said in a document dated Dec. 1 and e-mailed to Bloomberg News yesterday. The ministry didn't elaborate on the measures Takata should take.
G/O Media may get a commission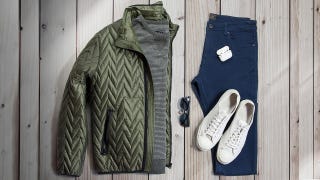 60% off
Jachs NY Fall Sale 60% Off
Great company.
2nd Gear: SAAR 17.2 Million
The annualized selling rate hit 17.2 million this month, up about 5% over last November. This compared to overall sales during the holiday, which were down.
What's going on? Lower gas prices. Easy credit. Increased advertising.
And it should continue into next year, according to sources in this Detroit News article:
Gutierrez said the industry could sell 16.8 million to 17 million vehicles in 2015, marking the first time since at least World War II that sales have increased six consecutive years.

Helping drive the strong sales into next year are low interest rates, new vehicles, pent-up demand and increased holiday advertising and marketing.

"It used to be you couldn't compete with Santa Claus. Now the OEMS thrive on competing with Santa Claus," said Larry Dominique, executive vice president of automotive pricing and information company TrueCar.
Fuck Santa.
3rd Gear: Ford Product Chief: Low Fuel Prices Have Consequences
While truck sales are up and, ultimately, that's good for Ford, there's definitely a cost as Ford's global product Chief Raj Nair told Marc Phelan.
A long downward trend in gasoline prices could make consumers less likely to buy the fuel-efficient vehicles key to reducing climate change, Ford global product development chief Raj Nair said in a wide-ranging discussion Tuesday.

Increasing vehicles' fuel economy is "the right thing to do," to reduce human contributions to greenhouse gases, he added.
It's an interesting time at Ford right now with regard to their trucks. They hyped their aluminum body as a huge boon for fuel economy, but their numbers weren't earth-shattering, just good.
Right now the Ram EcoDiesel is still the best bet for mileage and, while it doesn't have all the capabilities of the F-150, it clearly bothers Ford that they don't have the most efficient truck.
They also lost TOTY to the Chevy Colorado in a market they abandoned when they stopped selling the Ford Ranger. We'll see what happens when the trucks go on sale.
4th Gear: Nissan Will Return To The Super Bowl
Nissan hasn't run an ad in the Super Bowl since 1997, which is a shame, because they've made two of the best Super Bowl ads of all time ("Dreams" and "Toys").
Will they be able to make something as good for the Nissan Murano? I'm not sure, but I hope they take the inspiration from their previous work.
The automaker didn't disclose details about the creative approach it would take or the amount of time it bought, but called Super Bowl XLIX an opportunity to promote the upcoming introduction of the 2015 Nissan Murano and other "critical" new vehicles.
Curious. Very curious.
5th Gear: Dr. Z Can't Live Forever
At some point, Dr. Z will go, and since anyone who may have wanted the top job at either Nissan or Mercedes has already fled, people are closely watching board moves to see if they can figure out who gets the top job next.
Daimler plans to appoint Mercedes sales chief Ola Kaellenius to its management board as the German carmaker lines up potential candidates to succeed chief executive Dieter Zetsche, Bilanz magazine reported on Wednesday.

Kaellenius, 45, could be nominated by the supervisory board in January, the magazine said without citing the source of the information.
But does he have a cool mustache?
Reverse: Goodbye, Pacer
On December 3, 1979, the last Pacer rolls off the assembly line at the American Motors Corporation (AMC) factory in Kenosha, Wisconsin. When the car first came on the market in 1975, it was a sensation, hailed as the car of the future. "When you buy any other car," ads said, "all you end up with is today's car. When you get a Pacer, you get a piece of tomorrow." By 1979, however, sales had faded considerably. Today, polls and experts agree: the Pacer was one of the worst cars of all time.
[HISTORY]
Neutral: Where does this end? Do we want NHTSA forcing Takata into a recall? Is this political theater?
Photo Credit: Getty Images