The 2011 Buick Regal gets an IIHS Top Safety Pick. The blue-haired, blinkers-always-on retiree crowd can now rejoice! [IIHS]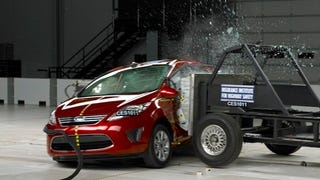 The Ford Fiesta sedan/hatchback is the first minicar to earn the Insurance Institute for Highway Safety's (IIHS) Top Safety Pick award since the IIHS added a roof strength requirement for rollover protection.
The 2011 Jeep Grand Cherokee earned a top safety pick from the IIHS following their "midsize SUV" tests. Among others, they wrecked a Crosstour, Venza and Edge. Exciting vehicles? Other than the new Grand Cherokee, no. Exciting crashes? Hell yes!
Irv Miller, public affairs head of Toyota USA, just posted the automaker's official response to not receiving any 2010 IIHS Top Safety Pick awards. What's it say? The IIHS didn't test every Toyota and the new test is really hard.