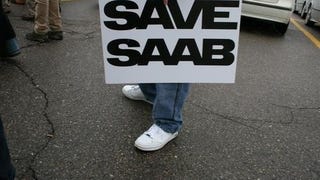 No enlightenment about Saab's future moments ago in the press conference officially anointing Ed Whitacre, Jr. as GM CEO. What new news was there in the 15-minute press conference? Whitacre will basically be commuting from Texas to Detroit.
GayWheels and others reported yesterday Bank of America is denying car loans to Saab and Isuzu buyers. We called the company for a statement and they explained they're actually still loaning money for buying Saabs. However, there is a catch.
Today, Saab's Swedish board voted to liquidate the brand. No telling if Trollhättan will quirk again, but shortly after everything went to pot, we took a 1972 Saab Sonett to GM's headquarters. Perspective? Yup. Also, that freewheeling clutch is weird.
Saab Auto board votes to liquidate company. GM still considering offers. Børking imminent? [WSJ]
Formula One's overlord has teamed up with a Luxembourg private investment company to submit a bid to GM to buy Saab. But does the General think the bid's credible?
Today in Detroit a motley crew of Saab enthusiasts gathered in the shadow of GM's corporate headquarters to tell the company one thing: Sell Our Saab. It was cold and snowy and dreary, but also kind of fun.
We've put together this very unofficial poster for today's SaabHistory S.O.S. (Sell Our Saab) rally in downtown Detroit. Let us know in the comments below if you're coming. Don't have a commenter account? Now's a good day to sign up.