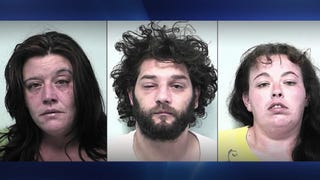 Following up on a tip that drugs were being bought and sold in an Indian Orchard, Mass. parking lot, police saw a heroine deal go down in the unlikeliest of places — inside an ice cream truck with "Ding Dong Cart" printed on the side.
Police in New Jersey caught three teenagers cruising through town in a light blue truck, blasting Mr. Softee music through the truck's stereo. Only they didn't have any Mr. Softee products aboard.
If I could have all the hours I invested in Twisted Metal 2 on Playstation back I'd probably be able to finish War & Peace, but I wouldn't do it. Those were great hours. So the sight of Sweet Tooth from TM2 rendered in real metal is both heart-warming and stomach-sinking, which I think is the point.
Florida sheriffs chased down 49-year-old Ronald Clifford Purdy after he nearly hit a kid. They found him so drunk he stumbled out of his ice cream truck, flanked by whiskey bottles, with a BAC three times the limit. (H/T Goatrope!)
East Oakland can be a tough place, and so the Ice Cream Man must also be tough! A slot-mag-equipped Whiting truck, with broken windows and hand-scrawled ads for $1.00 root beer floats… might as well call it the Boogie Man!
If you hear the familiar ring of the ice cream man's bell along Bellevue Street or any other thoroughfare in Metro Detroit, the purveyor of that ice cream cone is likely to be a Muslim Arab immigrant. According to a profile by Charlie LeDeuff in this morning's Detroit News, the life of the average Detroit ice cream…
On the list of vehicles that we can say definitively don't make great getaway cars, we now have Good Humor ice cream truck to add to Krispy Kreme truck and gardening truck. Shawn Stewart and Wesley Jumper were, apparently, quite dirty as they deviated from Stewart's normal ice cream route and stopped at a La Plata,…
Our two contestants yesterday were pretty evenly matched, with the Turbo 2002 beating the KA24DE 510 by a nose. Today, it's time to really explore true project lunacy, with a couple of vehicles that would be sure to make your neighbors recoil in horror if they were to see either one being dragged into your driveway…