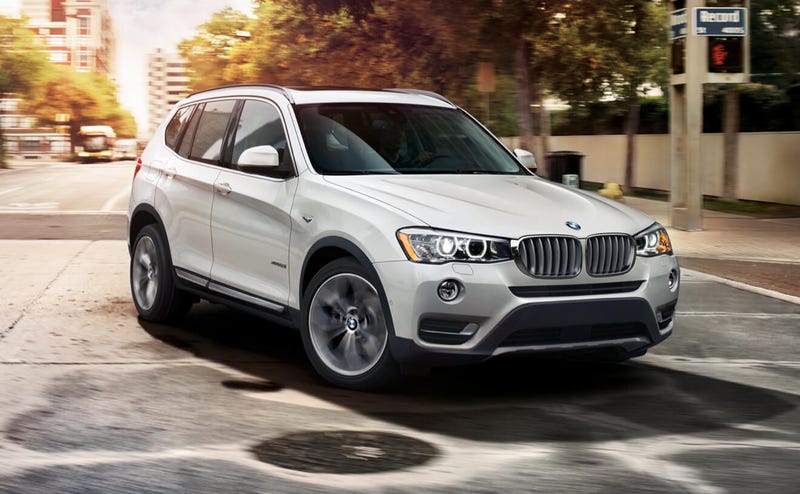 It's no Dieselgate, but it's still pretty embarrassing—BMW has filed a recall with the National Highway Traffic Safety Administration for just one BMW X3 for risk of fire in the electric power steering system, which "may not have been welded properly."

The German trade magazine Auto Bild reports that road tests conducted by the International Council on Clean Transportation (ICCT) found the diesel BMW X3 20d Xdrive guilty of emitting more than eleven times more NOx gases than the limits of Euro 6, Europe's latest diesel engine emission legislations. Oh boy.
BMW just shared a rather nice photo of an X3 posing with some mountains on their Facebook page. Unfortunately they called it an X5. Oops.
We have even more new photos of the Dacia Sandero Dacia Duster BMW X3!
Clueless New Yorkers today mistook a lightly camouflaged BMW X3 prototype — carelessly left running in front of the Museum of Natural History by a BMW executive — for a car bomb and promptly shut down parts of the city.
BMW announced today that it was recalling approximately 200,000 vehicles because a sensor issue might stop the front passenger airbag from deploying. The issue comes from small cracks that could develop within a seat detection mat, causing the airbag to be deactivated. Affected are MY 2006 3-series and MY 2004-2006…
Underneath the Bavarians' now signature swirly camo is the 2010 BMW X1. Expect most of the 1-Series' engine range to be available on the X1, connected to BMW's X-Drive AWD drivetrain — which should make it an able handler. Apparently, there are plenty of people BMW thinks want one, as production is expected to top…
Autobild, our favorite German tabloid of a car rag, has gone on another speculation spree, and this time it's related to the new 2009 BMW X3 and first 2010 BMW X1. The pending refresh of the compact SUV will come just in time to duke it out with new offerings in the form of the Mercedes Benz GLK and Audi Q5. But what…
What have we here? It looks to be some sort of tarted-up BMW wagon, and according to the guys at BimmerPost, it's a mule for an upcoming 3-Series based crossover to be known as the BMW F3. Of course, there's no way to be sure. The last time we saw a lifted E91 we thought it was an X3 powertrain mule. Then there's some…
What can be said about the BMW X3 that we haven't already been through? It's a compact SUV which would be better off as a four-by-four station wagon, just as AMC showed us. Funny thing though when you're developing a new X3 to come out sometime before 2011, you may need to wrap the test power train in something other…