A regular ferry cruise from Newcastle to Amsterdam turned slightly south late last night when a guy appeared to have set fire to his own cabin. Despite six people being treated and released for smoke inhalation, though, it looks like everyone still had a great time.
North Sea ferries have a reputation for being a bit ridiculous, as their goal is to basically get you as boozed up as possible before dropping you off in another country, where everyone will surely love drunk-you.
And this cruise aboard the MS King Seaways was no different, despite the flames. The party even kept going while the passengers were mustered for evacuation, according to the AP:
Another passenger, 28-year-old Steven Basford, said people were mostly well-behaved, although he said two men got into a fight.

"Obviously people had had a lot to drink," Basford said. "It's a bit of a party boat."
It's not a party boat until someone sets it on fire and then some dude punches another dude in the face.
The fire started in one of the cabins, but nobody seems to have given a crap, as the passengers all gathered to sing "My Heart Will Go On," a sea shanty from Titanic, the movie we all regret seeing almost 20 years ago.
G/O Media may get a commission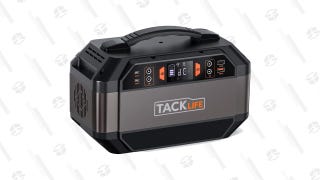 Tacklife Portable Solar Generator
Calamities on boats seem to be much nicer than calamities on planes.
Photo via AP