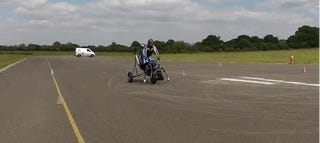 The UK's very own Stunt Asylum has been training people how to be two-wheeled asshats for years, but in a safe, sane, controlled environment. Now they've added a new tool to their arsenal and I desperately, desperately want to catch a plane to play with it.
They're calling it a "stoppie bike" and it does exactly what its name implies.
The surprisingly intricate rig has small wheels up front, big wheels in the back, and a catch tied into the rear subframe of the Yamaha to stop the rider from going too far.
It's wonderful and idiotic and now I'm looking at flights to Heathrow. Dammit.
---
Contact the author at damon@jalopnik.com.
Public PGP key
PGP fingerprint: 7301 D7FC 2FF6 D437 E5A7 0568 3A14 624A 1800 4C85