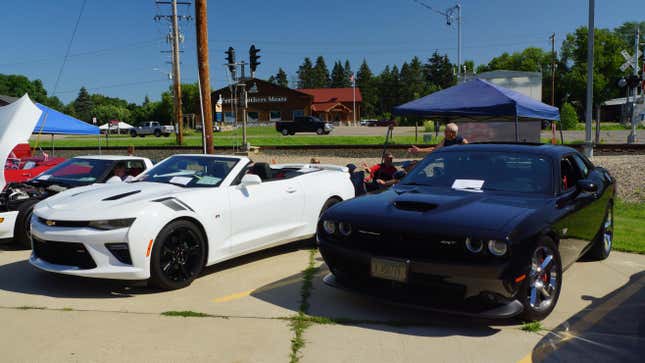 Stellantis and General Motors are reportedly on the hook for $363 million in civil penalties because both automakers failed to meet U.S. fuel economy requirements for a handful of model years. According to Reuters, the "record-setting" penalties include $235.5 million for Stellantis because of 2018 and 2019 model year vehicles as well as $128.2 million for GM for 2016 and 2017 model year vehicles. The penalties have been set by the National Highway Traffic Safety Administration, the entity in charge of Corporate Average Fuel Economy standards.
The outlet reports that both GM and Stellantis paid their respective penalties between May and December, and this is apparently the first time in three years the agency has collected fuel economy penalties from OEMs.
Stellantis was quick to blame the last guys – FCA – for the penalty, reportedly saying the penalty "reflects past performance records before the formation of Stellantis, and is not indicative of the company's direction." It isn't the automaker's first foray into being penalized for missing CAFE standards. It previously had to pay NHTSA $156.6 million for the 2016 and 2017 model years.
GM told Reuters "[As] we work towards the goal of a zero-emission future, we may use a combination of credits from prior model years, expected credits from future model years, credits obtained from other manufacturers, and payment of civil penalties to comply with increasingly stringent CAFE regulation." It seems a bit upset.
I suppose there's a good reason for that, though. According to Reuters, GM hasn't been fined a single time before this in the 40-year history of the CAFE program. The automaker reportedly had plans to use credits to meet its compliance shortfalls for the 2016 and 2017 model year, but in the end it opted to just pay the penalties.
This news comes as NHTSA reportedly plans to propose more stringent fuel economy standards for 2027 and beyond. The EPA is also proposing a 56 percent reduction in projected fleet average emissions of 2026 requirements by 2032. Automakers are gonna have to get to work fast.
For some perspective on how GM and Stellantis are performing fuel economy-wise, the EPA reportedly said that Stellantis had the lowest real-world fuel economy among all major automakers at just 21.3 mpg on average in 2021. GM was second lowest at 21.6 mpg, so congrats to them.
Reuters says that in March of 2022, NHTSA added a sharp increase in penalties for automakers whose vehicles didn't meet fuel economy requirements starting in 2019.
For the 2019 to 2021 model years, the fine is $14, up from $5.50, for every 0.1 mile per gallon new vehicles fall short of required fuel-economy standards, multiplied by the number of non-complying vehicles sold. For the 2022 model year, the figure rose to $15.

Automakers protested the penalty hike in 2016, warning it could raise industry costs by at least $1 billion annually, including boosting the value of compliance credits sold by Tesla (TSLA.O) and others.
In April of last year, NHTSA sharply increased fuel economy standards. It was a reversal of former President Donald Trump's brilliant move to roll back U.S. regulations aimed at improving gas mileage. Now, it has raised fuel economy requirements by 8 percent for both 2024 and 2025 model years, and will raise it a further 10 percent for 2026.