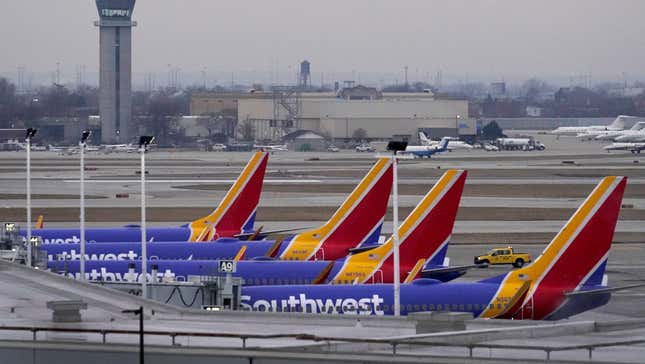 For anyone that was traveling with Southwest in December 2022, you know that it was hell. Thousands of flights were canceled all over the country due to extreme weather. Lawsuits were filed, and people awaited refunds for their flights. It was a total mess. Southwest wants to prevent that from happening again. The Washington Post reports the airline is investing billions to update its systems so that it can be prepared if and when something like that happens again.
In an email sent to members of the airline's loyalty program, CEO Bob Jordan outlined the steps the company is taking to ensure that it's prepared in the event something like the December cancellations happen again. The most important part of all this is taking care of customers, something Jordan pointed out will always be a priority. Jordan said that customers that had been waiting on lost luggage or for a refund have nearly been taken care of. Aside from the 25,000 rewards points that were recently given to customers, Jordan said " As of the end of last week, we have returned virtually all of the bags we had on hand from the event, have processed nearly all refunds, and are processing tens of thousands of reimbursement requests a day."

The bigger part of the plan is updating the company's systems. Southwest has set aside $1 billion to invest, upgrade and maintain the company's IT systems. The airline has also created a review committee to help understand what went wrong and an outside consulting firm called Oliver Wyman has been brought in to make further suggestions on what the company can do to improve.

While all of this is a step in the right direction, it shouldn't have taken a catastrophic wave of flight cancellations to light a fire under Southwest's ass to make a change. All of this could have been avoided had the airline headed warnings and taken action just before disaster hit. While none of this is specific to Southwest of course, Southwest stands out due to how many flights were canceled in such a short amount of time. Concerns about everything from staffing shortages to system outages were reported in the days leading up to the cancellations and the storms. A Dec. 21 memo obtained by The Post, for example, highlights how Southwest's VP of ground operations was concerned about staffing shortages at Denver Airport. He was concerned enough that he described it as a "state of operational emergency". But nothing was done.

Unfortunately, we will have to wait until another storm or holiday flight craze to see whether or not the billions Southwest invests in itself pays off.