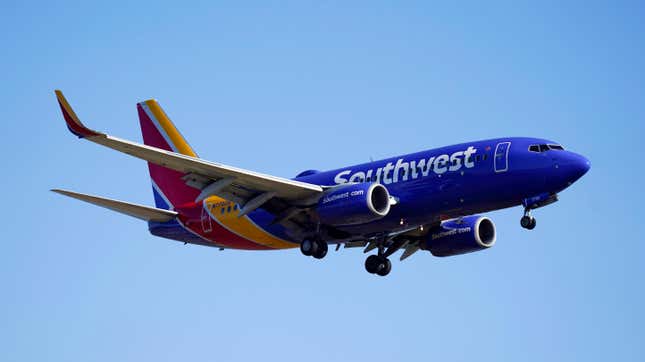 Southwest is pulling out all the stops to try and make it up to the customers affected by the airline's holiday follies. The airline's latest gift to customers who are still waiting for refunds for their canceled flights is a bonus 25,000 points, The Wall Street Journal reports, with the added benefit that the points can be used anytime and never expire.
The peaceful points offering comes on the heels of Southwest's nationwide meltdown of flight cancellations from the holidays and weather that left thousands of customers stranded. On top of that, a class action suit was filed this week with one of those thousands of stranded customers claiming the airline hadn't offered refunds. Southwest CEO Bob Jordan said in a letter sent out to customers that they would be receiving the points, adding, "I know that no amount of apologies can undo your experience." Jordan called the bonus points being offered to affected travelers a "gesture of goodwill."
It looks as though some customers find the points as a satisfying reprieve—there are enough to cover roundtrip tickets to some popular destinations. Points are also given to each flyer rather than just each party, with one individual, WSJ quoted, as having received 75,000 points for his party of three. Those points "are worth more than the price he paid for the tickets."
But covering roundtrip destinations all depends on where you fly out of, and when you plan to do it. Digging around on Southwest's site, 25,000 points could cover one roundtrip ticket from LA to Honolulu in early February, or LA to New York City around the same time; it's not enough to cover a flight from my hometown of Ontario, California to Cabo, San Lucas Mexico at the end of this month.
While some are accepting of the gesture, not everyone is happy. Southwest has said notifications and emails regarding the points have gone out, but customers are reporting not having received any contact or information about the points. WSJ spoke with one flyer from the Boston area that says she hasn't received the points or a refund for her flight. She added that the points wouldn't make up for anything anyways, as she doesn't plan to fly with the airline anytime soon. "Ideally I would love a refund for everything. I'm not a frequent Southwest traveler, and this doesn't really make me want to become one."