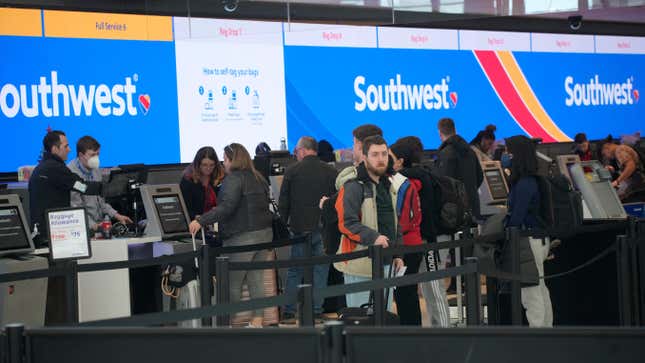 The first of what is sure to become many lawsuits has been filed against Southwest Airlines. The suit, is a proposed class action suit, alleging the airline isn't offering refunds for flights canceled during last month's weather and holiday travel, Reuters reports.
Airlines Have to Pay Up for Poor Service
This suit is the result of the mess that winter storms in the eastern part of the U.S. caused. Southwest canceled over 70 percent of their flights the day after Christmas. Eventually, over 15,000 flights were canceled because of the storms. It was so bad that Transportation Secretary Buttigieg sent a letter to Southwest CEO Bob Jordan calling the cancellations unacceptable and reminding him that federal law requires that they refund customers in a timely manner.
One of the thousands of customers affected by the flight cancellations just over a week ago is Eric Capdeville, who filed the timely suit with the New Orleans federal court. Capdeville was flying with his daughter from New Orleans to Portland, Oregon, when their flight was canceled on December 27 and like thousands of other Southwest customers, the two were unable to book another flight.
Capdeville's lawyer claims Southwest is in breach of contract by not offering refunds for the canceled flights, adding that Capdeville and his daughter were only offered a credit. The case looks to seek damages for Capdeville and any other passengers whose flights were canceled on and after December 24 that didn't receive a refund.

While Southwest has stated it would be offering refunds, it also added that those refunds may take several weeks, and requires you to fill out this form that goes, somewhere, for a hopeful refund. Southwest's own cancellation policy says a passenger is owed a refund over a canceled flight. However, federal law regarding flight cancellations due to weather is a legal gray area. While DOT is investigating the cancellations, there is the possibility that Southwest is found to not be at fault for the canceled flights.
But Southwest seems unbothered by the suit. In a statement to Reuters the airline didn't even comment on the suit, instead saying that the airline is currently working on getting refunds to customers.

... several high priority efforts underway to do right by our customers, including processing refunds from canceled flights, and reimbursing customers for expenses incurred as a result of the irregular operations.