This is an increasingly common phenomenon, but every now and then you'll see a Bring a Trailer sale where the only reasonable response is: "Are you fucking kidding me?" The latest example is this, a 1991 Honda CRX Si that just sold at auction for an eyebrow-raising $33,600.
And it's proof that this once-cheap hatchback is destined to follow the S2000, Integra and original NSX into lucrative collector status.
A CRX, going for as much as a nicely equipped new Subaru BRZ. Never thought I'd see the day, man. I remember when CRXs were dirt cheap, and generally treated in accordance with that.
I guess the nice ones are going for the fancy money now.
G/O Media may get a commission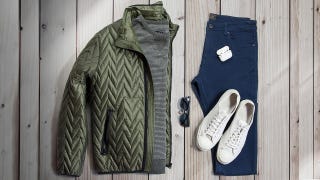 60% off
Jachs NY Fall Sale 60% Off
Granted, this was one of the cleanest CRXs I've seen anywhere. It has just 32,500 miles on the clock, a very pristine interior, a window sticker and service records, a working sunroof, no accidents and no rust, near as I can tell. It's also a CRX Si—that's the sportier one, with the five-speed manual and 108 horsepower engine. That was seriously not bad for a hatchback of that size and weight.
Thing has louvers, too.
So I'm not out here denying the CRX was good or even coveted. I get that, and I've always liked these things. But please remember it's a glorified economy car! It's a Civic, basically. It cost less than twelve grand in 1991, about $22,000 in today's money.
And now! It'll fetch you on Bring a Trailer what an average new car costs in 2019. Crazy.
I get that CRXs are reaching collector status—they have one of the most important qualities needed for that, which is rarity. While the CRX was a popular mass-produced car in its day, not many of them survived the Tuner Wars of the 1990s and early 2000s, ending up on hideous wheels with rock-hard coilovers and half-assed engine swaps and just so much underbody neon. Nice, clean ones are super hard to find, to say nothing of the more coveted Si version.

But, still! Almost $34,000! Holy shit, right? As one commenter over at BaT said, "Who would have guessed in 1993 that a used Civic would be worth twice as much as a used Mercedes 500E?" Couldn't have put it better myself.
Anyway, if you have a nice CRX, hold it tight. Cherish it. Love it dearly. Then wait a few more years, throw it on BaT and make even more money.