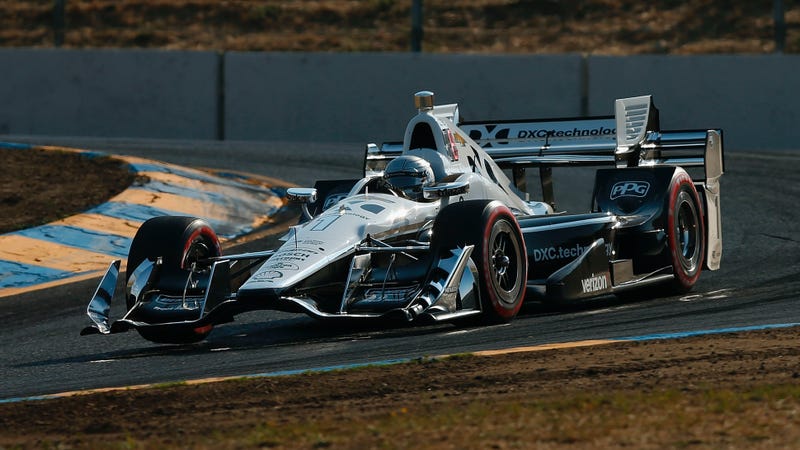 IndyCar's season finale today at Sonoma is going to be insane for one incredible reason: seven different drivers could win the championship. Seven! Sonoma is a double-points race which racing legend A.J. Foyt accurately called a "gimmick" in Autoweek, but that gimmick means that the entire top seven has to bring their A-game.
Championship leader Josef Newgarden claimed pole position to earn one more point yesterday, updating the points to where 95 points separates him from seventh-place championship contender Graham Rahal:

Let the absurdity of reading "seventh-place championship contender" on the afternoon of a season finale sink in for a second. A Sonoma race win is worth 100 points, thanks to the aforementioned double-points gimmick. Anyone in that 100-point spread from first to seventh could plausibly be your new 2017 IndyCar champion.

The double-points schtick continues on down the line, with second place worth 80 points, third worth 70, fourth worth 64, fifth worth 60—you get the idea, but the top seven need to aim for a top five finish in order to stay in the running for that coveted championship win, according to Road & Track's Marshall Pruett, who ran the math on the entire situation.

There are also more bonus points up for grabs today: one for leading a lap, and two for leading the most laps. With seven dudes thirsty for that trophy, looking for all the points they can get, it's basically turned IndyCar's finale into an under-the-radar must-watch if you want to see some truly incredible racing go down.

IndyCar settles this seven-man battle at 6:30 p.m. tonight, and you can watch it on NBC Sports.

UPDATE: If you really want to delve into the points in excruciating detail, NBC Sports has perhaps the most intricate rundown yet here.