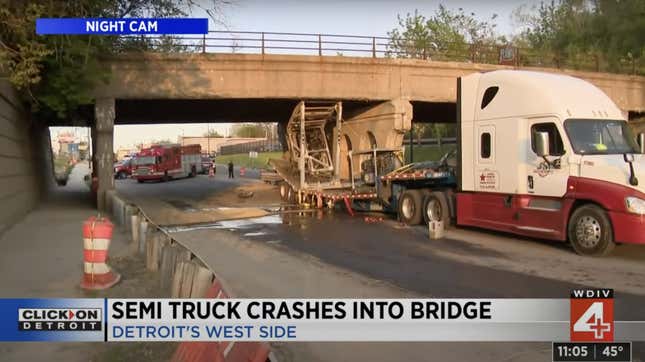 Low-ass rail bridges are a scourge to our taller vehicle brethren across this great nation of ours. Detroit in no different. This low-ass bridge on the city's westside managed to take out a semi on Wednesday so completely that the force of the impact crushed the trailer like a candy bar wrapper.
Chase Elliott Explains the Challenge of Adapting to NASCAR's Next Gen Car
The crash occurred near the Dearborn-Detroit border on Warren Avenue. The out-of-town truck driver was hauling a piece of a crane when it smashed into an abandoned train bridge. The crash didn't damage the bridge, but it did take out the semi's trailer, sending hydraulic fluid into the street, WDIV 4 reports.
And I'm excited to inform you that Detroit's one and only British news presenter, Tim Pamplin, was on the scene:
You may remember Pamplin from his classy presenting of a moron car thief in Southfield, or his unrelenting glee as car after car was chewed apart on one of metro Detroit's worst maintained roads right in front of his cameras.
The truck driver told Pamplin that he was from out of town and thought his load would fit. Seems like the sort of thing a professional truck drive would consider. It took a 10-ton wrecker, some disassembly and a good tug to get the crane out from under the bridge. Clean up crews worked late into the night to clean up the hazardous leak.
This bridge did quite a bit of damage, but it has nothing on our favorite low-ass bridge in North Carolina, the 11foot8.com bridge. Even after the bridge was raised, folks kept smashing into it, tearing the tops off over one hundred box trucks. The 11foot8.com website is no longer live, it will live forever in our hearts and on Jalopnik.