The old nightmare came to haunt me again last night.
In it, I am always standing on the edge of a cliff overlooking an ocean. I am alone. There is only the pounding of the surf that keeps me company. The imagery by itself isn't what frightens me, though. It's the feeling of being utterly infinitesimal. This is what always wakes me up.
I've tried everything to stop the dreams. But no amount of cheap gin and the company of ill repute has made a difference. Until last week.
I happened to stroll past the watch shop and it caught my eye: the RM 50-03 Tourbillon Split Seconds Chronograph Ultralight McLaren F1. Even the long name called to me softly. I stared at the watch ravenously, enraptured in the details, like the
HAND-POLISHED BEVELING
HAND-POLISHED LOCKING-SECTIONS
SAPPHIRE-MICROBLASTED MILLED SECTIONS
LAPPED AND POLISHED CONTACT POINTS
BURNISHED PIVOTS

I'd heard of this one. It was born of a very predictable partnership between watchmaker of questionable aesthetic decisions Richard Mille and the McLaren Formula One team, was it not? Especially after McLaren lost Tag Heuer to Red Bull last year?
But I digress. The comings and goings of luxury watches and racing sponsors bore me.
G/O Media may get a commission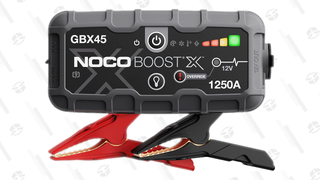 13% Off
Noco Boost X GBX75 Jump Starter
"One of 75," the goose who worked the counter inside told me excitedly, preening his feathers. "You could be one of 75 people to own this watch!"
I picked up the watch from its satin pillow and examined it more closely, while the goose nosed about the floor near my shoes for some forgotten crumb of food. It weighed "LESS THAN 40 GRAMS"—which was surprising, considering how massive it was.
The watch was made from "GRADE 5 TITANIUM AND TPT CARBON FOR THE BASEPLATE AND BRIDGES." I didn't know what any of that meant (and nor did I care), but it sounded important.
I thought back to the goose's words—and revelation struck me. One of 75? That's certainly better than one of seven billion, which was my current standing. This watch could be my redemption, a savior of my soul from the wretched dream and overall feelings of conformity.
"How much?" I asked the goose.
He didn't know, but he cited Carscoops as musing that the watch cost about a million dollars or so. That was good enough for me.
"I'll take it," I said, slamming my briefcase down on the counter. I helped the goose count out a million dollars from the cash inside (he was having difficulty because wings aren't really suited for counting money) and I departed the store, my new piece of individuality strapped securely to my wrist.
And I wasn't imagining it: I actually felt lighter on my feet. Looking at all the people who shared the street with me, I was suddenly hyper-aware of how much I stood apart from them now.
I pulled the cuff of my sleeve up higher, only slightly, so that the watch's face just caught the sunlight. I was ready to begin my life anew.