You know boutique and high-end supercar maker Scuderia Cameron Glickenhaus as the guys who make the batshit-looking stuff like the SGC 003S and 004S. And the team is looking to expand production. Today, the company revealed that it's very close to purchasing a new factory space in Danbury, Connecticut.
Joining the factory in Sleepy Hollow, New York, will hopefully soon be one in nearby Danbury, about a 45-minute drive away. The land is located on a small airport with runway access because apparently the people who buy SCG cars are part of the crowd who takes a plane to buy a car. Currently, the cars are built in Turin, Italy, according to Autoblog.
The main building is a round structure that was first built to produce "giant revolving turntables for restaurants in skyscrapers" or "railroad stations where trains needed to turn around," SCG's spokesperson told us in an email. There's also a four-car garage for display vehicles, along with offices and conference rooms. The company is also building a photo studio in one of the garages for pretty pictures of its cars.
Additionally, "We are working to make the building environmentally friendly and researching solar panels and batteries to provide the entire electricity supply for the factory as well as possible LEAD certification for the building," the rep told us.
G/O Media may get a commission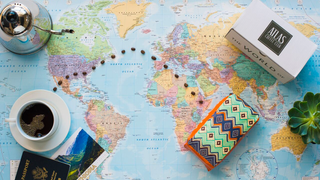 First Bag Free
Atlas Coffee Club - Free Coffee
Explore global coffee
With each bag, Atlas includes details on the coffee's tasting notes and a postcard about the region and its coffee history. And when you subscribe, you have options to tailor frequency, grind size, and roast preference of your beans, so you'll always be brewing the perfect cup.
SCG hopes to build out the space so that it could produce 15 cars a week, though that will take a while, and that the factory will be built to scale 50 cars per year. In 2017, the company received a Low Volume Manufacturer status in the U.S. from NHTSA, which means that it's allowed to build up to 325 cars.
The 004S has not been built yet, but the company expects to build out the first prototypes next year.