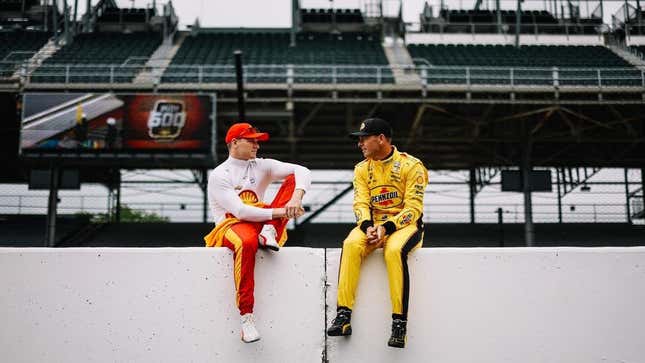 When Scott McLaughlin joined IndyCar, he wasn't just hopping from one race series to another: He was leaping across hemispheres and disciplines. The New Zealander made his debut with the series in 2021 alongside a stacked rookie field that included former Formula driver Romain Grosjean and seven-time NASCAR Cup Series Champion Jimmie Johnson. But by pairing the on-camera prowess of his Team Penske teammate Josef Newgarden with his own personality, McLaughlin has quickly defined a niche for himself in the eyes of IndyCar fans.
A big part of that comes down to Bus Bros, the YouTube series started by McLaughlin and Newgarden that features the two drivers donning inflatable costumes and getting up to shenanigans in the IndyCar infield.
"It's completely changed the amount of people that know who I am or what my personality is like," McLaughlin told Jalopnik in an interview during the Hy-Vee Iowa IndyCar weekend. "Coming from [Australian] Supercars, so many people in America just didn't know who I was, really.
And he isn't wrong. Conceptually, some motorsport fans were aware of McLaughlin's dominance in Supercars — his multiple championships, his rivalry with racing icons like Shane Van Gisbergen — but couldn't have told you what he was like as a person. Bus Bros gave him a chance to be seen by IndyCar's audiences in a new, more personal way.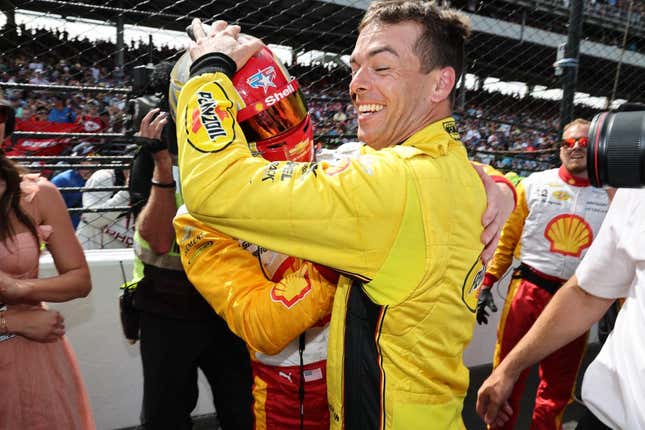 "Bus Bros allowed me and Josef to show our personalities more because we're representing ourselves," McLaughlin explained. "We're not representing [Team Penske], so it allows us to open up more. We can just kind of treat it like a home video."
Of course, as public figures, McLaughlin and Newgarden still represent both IndyCar and Penske, even when they're off the track — which means there are still some limits of decorum that dictate how much they can let their hair down.
"Me and Josef talk a lot of crap in the trailer and the debrief room," McLaughlin said of Bus Bros' origins. "We decided we should just try something video-wise, but we didn't really know what the concept was. We had one sheet of paper with some topics on it, but we didn't even read off of that. We just started talking."
The natural banter between the two drivers translated well to audiences. What started out as an idea for a series of a few videos has now become a race weekend staple that fans look forward to with the same devotion they have to IndyCar as a whole.
But Bus Bros is only one aspect of McLaughlin's online presence. He's also an active Twitter user and was one of the first drivers to try out new forms of social media, like Instagram's Threads. Online, he's able to engage with fans — and haters.
"If someone wants to talk crap, then I'm happy to talk back to them," McLaughlin said, laughing. "Especially when they're wrong. I'll call out someone for being an ass if they're wrong."
"Has that earned you respect among the fans?" I asked.
"Everyone's careful what they say to me, because they know I come back at them," he said.