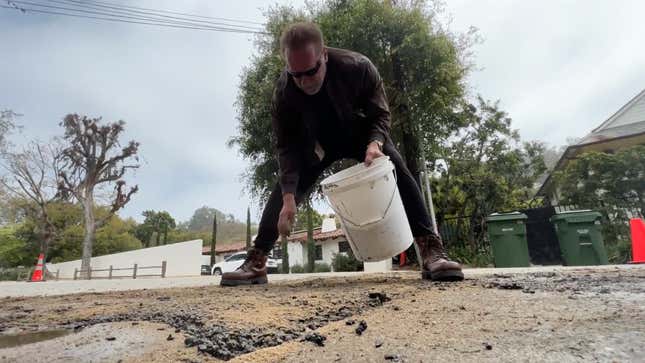 America's infrastructure sucks, and potholes in Los Angeles have gotten particularly bad after the rain storms that hit Southern California in March. The city has said it has received almost 20,000 service requests for the road hazards since mid-December 2022. Unfortunately, there has been a big delay in road maintenance. Many people get fed up — including, apparently, Arnold Schwarzenegger. KTLA reports the former governor took matters into his own hands to repair a pothole after the city of LA took too long to do it. Except, it wasn't actually a pothole.
Nissan Finally Turns a Profit
In case you missed it:
On Tuesday, April 11, drivers in LA's Brentwood neighborhood may have been surprised to see Schwarzenegger on the side of the road with a shovel. In a tweet, the former governor says that people have been waiting for weeks for the city to do something about the pothole. Cars and bikes had been damaged as a result.

Tired of waiting, Schwarzenegger went out with his own team to fix the pothole.
"Today, after the whole neighborhood has been upset about this giant pothole that's been screwing up cars and bicycles for weeks, I went out with my team and fixed it," he said in the tweet. Residents of the neighborhood driving by thanked Schwarzenegger for fixing the hole.
But there may have been a reason that the city was taking so long to do something about the hazard: It wasn't a pothole at all.

Speaking to NBC News, a spokesperson for the city explained that the hole in question is a service trench for the gas company.
"This location is not a pothole. It's a service trench that relates to active, permitted work being performed at the location by SoCal Gas, who expects the work to be completed by the end of May," the spokesperson said. They added that SoCal Gas would repair the trench once their work is done but didn't give a timeframe.

While it was cool of you take matters into your own hands, Mr. Governor, you may have just made the gas company's job a bit harder.