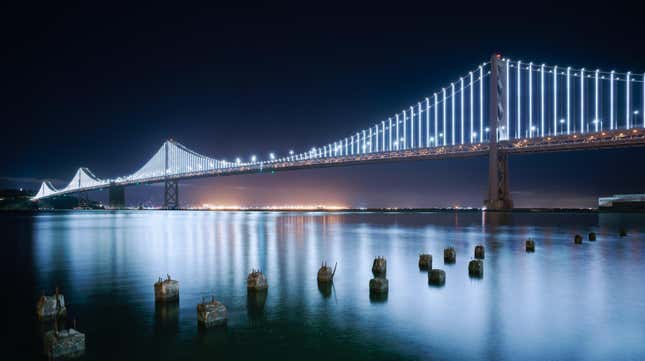 When it comes to suspension bridges, we're typically concerned with paying the toll and getting to the other side. But a suspension bridge can also become an iconic symbols of its region. San Francisco, Pittsburgh and Venice all have bridges you'd recognize at a glance, inextricably associated with their cities. Next on the list would likely be the Bay Bridge with its glowing strands. However, those lights could go dark forever on Sunday, March 5, 2023.
In case you missed it:
Caltrans will turn off the Bay Lights, an art installation on the San Francisco-Oakland Bay Bridge, on Sunday, perhaps indefinitely. According to NBC Bay Area, the decision was made because large portions of the light sculpture, designed by artist Leo Villareal, are broken and too costly to repair. Illuminate, the public art non-profit that originally installed the Bay Lights, is attempting to raise $11 million in hopes to save and fully restore the project.
The 25,000-LED sculpture was installed on the bridge's 300 cables in March 2013. The Bay Lights were only intended to be on display for a few years, but the installation was made permanent in 2016.
In 2015, the Bay Area Toll Authority had approved a $2.1-million contract for Philips Lighting North America Corporation to maintain the Bay Lights for the following ten years. According to SFist, Illuminate estimated that maintenance would cost $12 million across the contract, and the non-profit raised funds for the program.
Unfortunately, it seems like the amount was not enough for upkeep.
Hopefully, money can be raised to save the Bay Lights. Transportation infrastructure exists for functional reasons, but form should also be considered in designing and maintaining the public structures in the everyday lives of millions.