This is the Morning Shift, our one-stop daily roundup of all the auto news that's actually important — all in one place at 9:00 AM. Or, you could spend all day waiting for other sites to parcel it out to you one story at a time. Isn't your time more important?
The Ford Taurus Is Reborn — But Only For the Middle East
---
1st Gear: Saab One Step Closer To Bankruptcy, Seeks Second Swedish Bailout
Bloomberg reports this morning that Saab, the 64-year-old Swedish automaker that was born from jets, then bought by General Motors in 1990, then sold at a fire sale to Spyker, and then which halted production in June, applied for protection from creditors today in a bid to raise money to restart operations. The filing, made at the Vaenersborg District Court, is designed to shield Saab from a potential bankruptcy petition by its unions. Pending court approval, the reorganization process will last at least three months and can be extended to up to a year, Saab said in a statement. Join us tomorrow for our next installment of "As The Saab Turns."
---
G/O Media may get a commission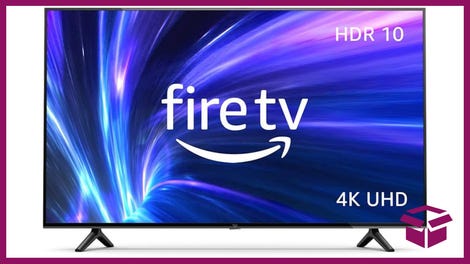 42% Off
Amazon Fire TV 50" 4K Smart TV
2nd Gear: No More Camrys From The Land Of The Rising Sun
Toyota says it's no longer exporting Camry sedans from Japan to North America, where the car is also manufactured - a decision that makes financial sense for the automaker as the yen soars against the dollar. Toyota, the super-number-one best automaker from the land of the rising sun, exported only about 1,700 Camry cars from Japan last year, and only when demand was so great that North American production couldn't keep up. With Toyota sales down, that's obviously not the great concern it once was. Company spokeswoman Shiori Hashimoto said Wednesday that Toyota's policy is to make the Camry a global car produced where it is sold as much as possible.
---
3rd Gear: Lexus LFA Nürburgring Officially Sets Record Lap For An LFA
As Evo's Chris Harris first reported last week, Lexus driver Akira Iida piloted an LFA Nürburgring Edition around the 20.6 kilometer "sport auto" lap of the Nürburgring Nordschleife in seven minutes and fourteen-point-six-four seconds. But, as The Truth About Cars points out, that still puts three "production" cars — one Gumpert Apollo and two Radicals — ahead of it. They also point out, however, it's the best time amongst what they're terming "bona-fide production models" like the Nissan GT-R (7 min 24 sec), Chevrolet Corvette ZR1 (7 minutes 19 sec), and Porsche 911 GT2 RS (7 minutes 18 seconds).
---
4th Gear: Sergio Elected Chairman of Board, Consolidates Control Of Chrysler
Sergio Marchionne was elected chairman of Chrysler's board of directors on Tuesday, further consolidating his control over the U.S.-based automaker and giving him more freedom to meld the company with Italy's Fiat. Mr. Marchionne, who is chief executive of Fiat and Chrysler, replaces C. Robert Kidder, who was named chairman after Chrysler emerged from bankruptcy protection in 2009.
---
5th Gear: Jaguar's Concept Car Is Still One Pretty Pussy
As we showed you last night, this is Jaguar's new C-X16 concept car - and something very like what you see here will hopefully go on sale in late 2012 as a pretty, but pricey, kitty. But what's that you ask? Is the Jaguar C-X16 the long-awaited E-type reborn? Sort of. It's never as easy as that in real life, is it? But, yes, the C-X16 or XE or whatever we end up calling it will indeed prove an accessible, beautiful sports car, slotting beneath the XK in Jag's burgeoning range. Check out Car Magazine's brilliant gallery of pussy shots here.
---
6th Gear: Fiat Will Continue To Let Tata Shake Its Cars Off Lots Fiat will continue to use the distribution network of Tata Motors Ltd. to sell its cars in India, while appointing separate dealerships in some cities for its brands, a spokesman for the local joint venture of the Italian auto maker said Tuesday. And really, the only reason I choose this story for 6th gear was so I could use that headline above.
---
Reverse:
⏎ Why Do New York Motorists Hate Janette Sadik-Khan So Much? [Observer]
⏎ Detroit's real estate market must be getting better — or at least more internet-fashionable. [Curbed Detroit]
⏎ Technology That Makes Left Feet Obsolete. [Wall Street Journal]
⏎ Iraq loves American cars. [Los Angeles Times]
⏎ TrueCar raises over $200 million in debt, equity. [Reuters]
⏎ Volkswagen-Suzuki Alliance Unraveling Over Control of Driver's Seat [Bloomberg]
⏎ Pay no attention to that man behind the curtain... [Autoextremist]
⏎ Audi R8 LMS Homologated For GT. [Speed TV]
---
Today in Automotive History:
On September 7, 1896, an electric car built by the Riker Electric Motor Company wins the first auto race in the United States, at the Narragansett Trotting Park—a mile-long dirt oval at the state fairgrounds that was normally used for horse racing—in Cranston, Rhode Island. Automobile companies sponsored the race to show off their newfangled electric-, steam-, and gas-powered vehicles to an awestruck audience. The carmakers' gimmick worked: About 60,000 fairgoers attended the event, and many more people read about it in newspapers and magazines. [History]
Show us your tips!
Got tips for our editors? Want to anonymously dish some dirt on a competitor? Know something about a secret car? Email us at tips@jalopnik.com.
Lost in our new layout?
Click here for the Opposite Lock or Tips forums. Want a more "blog-like" look? Click the button up top next to "Top Stories."
Get more Jalopnik!
Want even more Jalopnik? Want to know which of your friends read us? "Like" us on Facebook and follow us on Twitter.
---
You can keep up with Ray Wert, the author of this post, on Google+, Twitter or Facebook.