This is the Morning Shift, our one-stop daily roundup of all the auto news that's actually important — all in one place at 9:00 AM. Or, you could spend all day waiting for other sites to parcel it out to you one story at a time. Isn't your time more important?
---
1st Gear: Labor Day Weekend Driving Will Suck Less Than Last Year
Economic fears apparently are influencing travel decisions. Overall, 31.5 million people expect to travel 50 miles or more from home, a 2.4% decrease from last year. The survey found that 87% of those who plan to travel will drive. "Concerns about the economy combined with increasing airfares have a slightly higher number of travelers driving to their holiday destinations this Labor Day," said John B. Townsend II, AAA spokesman. But, despite prices being almost a dollar more than last year at this time, if recent declines in gasoline prices continue through Labor Day, we could see an increase in the number of people making last-minute holiday weekend travel plans. If your plans include road travel over the holiday weekend, here's our list of some of the best ways for you to save money on gas this weekend.
G/O Media may get a commission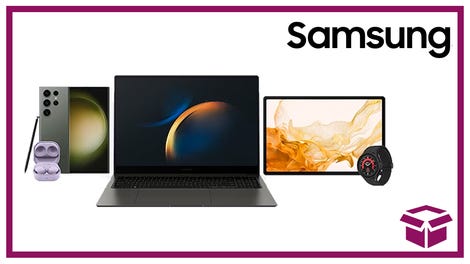 24 hour deals
Discover Samsung - Daily Deal
---
2nd Gear: Lexus LFA Nürburgring Edition Unleashes Possibly Record-Breaking Ring Run
According to EVO writer Chris Harris (he of "How Ferrari Spins" fame), Lexus driver Akira Iida posted a 7:14 lap time of the Nürburgring Nordschleife in a Lexus LFA Nürburgring Edition - good enough for either the fourth or fifth all-time fastest lap on the German track in a production vehicle. Even more impressive, regardless of milliseconds, this is the fastest lap ever by a mainstream manufacturer. Amazing.
---
3rd Gear: 2013 Boss 302 Mustang Gets Bevy Of Tech Upgrades
A leaked list of features shows that Ford's 2013 Boss 302 Mustang will be getting a heaping helping of tech upgrades. For starters, the greatest track day Mustang ever built will get SYNC and a 4.2-inch LCD message center placed in the instrument cluster, likely similar to the one currently used in the new Explorer and F-150, as well as Ford's MyKey system. On the outside, expect HID headlights to also be available along with a graphics package similar to that of the 1970 Boss 302.
---
4th Gear: BMW Recalls 241,000 Ultimate Driving Machines
On top of news of yesterday's recall of a bunch of diesel 1- and 5-Series', BMW is also recalling about 241,000 2002-05 BMW 3 Series models over a problem with the taillamps. Some trim levels of the 325i, 325xi, 330i and 330x - all built between Sept. 1, 2001, and March 1, 2005 - may have taillamps in which the lamp connector and housing unit can resist electrical inputs. If this happens, turning signals, braking and night illumination may be lost intermittently or permanently, and a motorist driving behind an affected vehicle may not be able to anticipate the driver's intentions, increasing the risk of an accident. And therefore, of course, potentially leading to fiery death!
---
5th Gear: Audi A2 Concept Fights For The Electric Users
This is the Audi A2 concept — a preview of what to expect from the long-rumored successor to the A2 hatch that was sold in Europe almost a decade ago. Set to be officially unveiled at next week's Frankfurt Motor Show, the four-seater concept features an e-tron drivetrain, measures 12 1/2 feet in length, 5 1/2 feet in width and sits just just under five feet tall. We expect, if it comes to market with an e-tron drivetrain it'll sell just as well as the last one. Which is to say, not very well.
---
6th Gear: Strike It Rich With A Dead GM Facility
There's gold in them thar' old GM facilities. "Forty-four million square feet. Eighty-nine facilities in 14 states. General Motors simply didn't need (these facilities) anymore," said Grant Trigger, Michigan cleanup manager for RACER Trust, the entity created in March to find new life for the old GM sites. But, as the trust's efforts kick into action to market these sites, some developers are wondering whether RACER is asking them to meet too many criteria to seal complex deals. But those developers would likely bitch and moan no matter what hoops — or how high — were placed in front of them.
---
Reverse:
⏎ What's Really Pornographic? The Point of Documenting Detroit. [The Awl]
⏎ TopGear.com's guide to donuts. [Top Gear]
⏎ 2012 Dodge Journey Shaves $3,250 Off Starting Price, Now $18,995. [Kicking Tires]
⏎ Chinese firms seek to invest in Saab. [Bloomberg via Detroit News]
⏎ Car Buyers Unfazed by Storms, Financial and Tropical, in August. [New York Times]
⏎ Quick programming note: As Monday is Labor Day here in the good ol' U.S. of A., it will be a quiet day here on Jalopnik. We'll still be posting — just not as much.
---
Today in Automotive History:
On September 2, 1959, at a news conference broadcast to viewers in 21 cities on closed-circuit television, Henry Ford II introduces his company's newest car—the 90-horsepower, 30 miles-per-gallon Falcon. The Falcon, dubbed "the small car with the big car feel," was an overnight success. It went on sale that October 8 and by October 9, dealers had snapped up every one of the 97,000 cars in the first production run. [History]
Show us your tips!
Got tips for our editors? Want to anonymously dish some dirt on a competitor? Know something about a secret car? Email us at tips@jalopnik.com.
Lost in our new layout?
Click here for the Opposite Lock or Tips forums. Want a more "blog-like" look? Click the button up top next to "Top Stories."
Get more Jalopnik!
Want even more Jalopnik? Want to know which of your friends read us? "Like" us on Facebook and follow us on Twitter.
---
You can keep up with Ray Wert, the author of this post, on Google+, Twitter or Facebook.