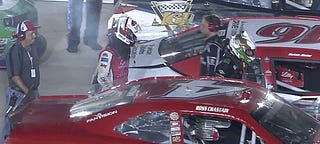 Ryan Reed was not happy with Ross Chastain driving him into the wall during the green-white-checkered finish of last night's NASCAR Xfinity Series race. The two exchanged stern words and pointed fingers after the race, but it's safe to say that a different finger was implied in Reed's post-race push.

Helmets are great! Not only do they protect you from accidents on track, but they also protect you from having to listen to another driver's angry fit.

As for the whole "I am mad at you and LET'S TALK ABOUT IT WHEN I'M SUPER MAD" phenomenon, Conner O'Malley sums it up well:

Bless your hearts, y'all. Maybe it's best to wait a little while before addressing an on-track oops. Y'know, send the driver a basket of their least favorite kind of cookies with a more subtle "WHY DID YOU PUSH ME INTO THE WALL, YOU DINGUS?!" nastygram in a tasteful, occasion-appropriate card. One with little flowers on it, maybe. Floral prints always smooth things over pretty well.

---
Contact the author at stef.schrader@jalopnik.com.