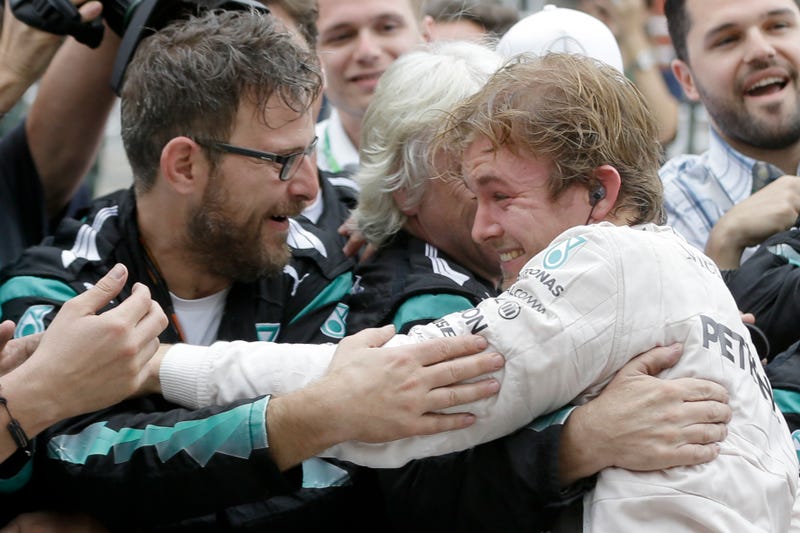 Mercedes AMG driver Nico Rosberg won his second Brazilian Grand Prix in a row on Sunday, finishing a whole 7.7 seconds ahead of teammate and Formula One champion Lewis Hamilton. For those wondering, Hamilton did show up for the top-three photo this time around.
Scuderia Ferrari driver Sebastian Vettel crossed the line in third, and perhaps was the happiest of them all. But we're used to that, because he tends to joke around with Hamilton and Rosberg quite often after the races.
The podium interviews had quite a few gems, such as Hamilton calling the race "boring" after saying that he couldn't catch his teammate. But, it was nothing quite like the hat throwing we saw between the two at the U.S. Grand Prix.
Once questions turned to Rosberg, he was told that his recent success would have helped him to rival Hamilton—who clinched the title at the U.S. Grand Prix—a bit more closely in the standings this year.
"Thank you very much for that advice," Rosberg said in the podium interview on the broadcast. "I could have figured that out myself."

Ouch. The series Twitter account tweeted a quote from Niki Lauda saying that Nico is better than Hamilton at the moment, so maybe Rosberg will end up taking that advice next year.
---
Photo credit: AP Photo/Ricardo Mazalan
Contact the author at alanis.king@jalopnik.com.