There aren't many stories quite so feel-good as the story of Robert Wickens' road to recovery. Despite spinal injuries sustained during a high speed crash at Pocono Raceway last August that rendered him paralyzed, the Canadian has remained optimistic and working hard through his physical therapy regimen.
01:08
Danny DeVito Explains Old-School Car Customizing to His Daughter Lucy
2 hours ago
He's not back to 100% yet, and there's still a long road ahead, but his Schmidt Peterson Motorsports team revealed this week that his #6 car is still ready and waiting for him whenever he is. This is a little out of the ordinary in motorsport. For me, it makes the SPM team just a little bit more interesting. To have your driver's back like that is inspiring.
That promise is largely backed by new team title sponsor, tech company Arrow Electronics. The new extension of partnership with Arrow comes with financial stability for the SPM team, for sure, but Arrow can also help the team with technological resources. They also purchased a comically large F1-style hospitality building last year, which is trucked to every race.
The SPM team was a threat to the big-three teams in IndyCar [Penske, Andretti, and Ganassi] from the get go in 2018, as Robert Wickens very nearly won the first race of the season. The hope is, with greater funding and an increased focus, they'll be able to infiltrate the top of the time tables regularly in 2019, making it the "big-four" teams.
G/O Media may get a commission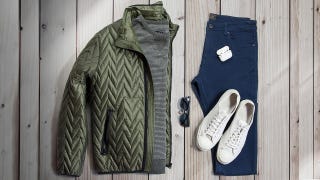 60% off
Jachs NY Fall Sale 60% Off
While Wickens is still on injury reserve, the team have added a third car for ex-Sauber Formula One driver Marcus Ericsson to partner with James Hinchcliffe.
In 2018 Hinchcliffe won a race with the team and scored one additional podium, marking a good year for SPM, despite his failure to qualify for the Indy 500. Wickens, in spite of his accident, was named Rookie of the Year in 2018, having picked up four podiums and tying his teammate on 391 points exactly.
In 2018, his fifth season in top flight open wheel racing, Marcus Ericsson scored 9 F1 points for Sauber. He was outperformed by teammate Charles Leclerc, and it was announced he would be replaced by test driver Antonio Giovinazzi.

It is interesting that the partnership between Schmidt Peterson and Arrow began four years ago when the tech company developed a "Semi-Autonomous Motorcar" for team boss Sam Schmidt. Schmidt was rendered quadriplegic following a crash of his own testing an IndyCar in 2000.
Back in 2014 Schmidt turned laps in the SAM, a modified Chevrolet Corvette, steering with his head movements and blowing through a tube to accelerate, then sucking on the same tube to apply brakes. Schmidt has since driven the 'Vette up Pikes Peak, and has been granted an autonomous vehicle driver license in Nevada.
This sponsor partnership is stronger than just a monetary one, as Schmidt will freely admit Arrow has provided him a new life he previously didn't think possible. He now hopes that with extended financial and technical support for the 2019 season, the partnership can garner an Indy 500 victory.

I, for one, am hoping to see Wicky back in a car this year. I've been a passive fan of SPM since Simon Pagenaud was an underdog dark horse for the championship in 2013, but this classy move has given me a new level of respect for the SPM team.