Sun baking down, components red-hot, and I'm sure vultures were about to start circling any moment: it was a sad scene for Gordon's race rig as it laid static somewhere between Calama and Iquique, Chile during the Dakar Rally that just wrapped up.
Robby Gordon and co-driver Kellon Walch made for a few "traditional" photo-ops, but unfortunately this photo more accurately summarizes their 2014 Dakar performance.
Team SPEED Energy's "HST Gordini" was plagued with problems from the very first day, losing over two hours due to vapor lock and overheating fluids. The team finally had to drop out of the race in Stage 11 when the Gordini's air filtration system proved inadequate just 18 kilometers into the stage.
While the race didn't go exactly as Gordon and SPEED Energy had planned, I'm sure they learned a lot about what needs to be done to their vehicle for the next one.
Image: AP
Race Truck Giddy Up is going to be daily morning post of a sweet race rig to get you fired up for the day. Currently in beta.
G/O Media may get a commission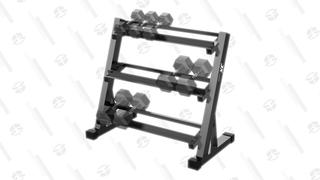 20% Off
JX Fitness Dumbbell Rack
Gains but tidy
Has a three-tier design to help store more weights more conveniently, can safely support up to 1000lbs of weight, which should be enough for most people, has a triangle base for stability, and also features anti-scratch feet which is great if you've built your own studio or workout in your garage.
If you've got the rights to a great truck racing photo and want to make it internet-famous, send it on over to tips@jalopnik.com!