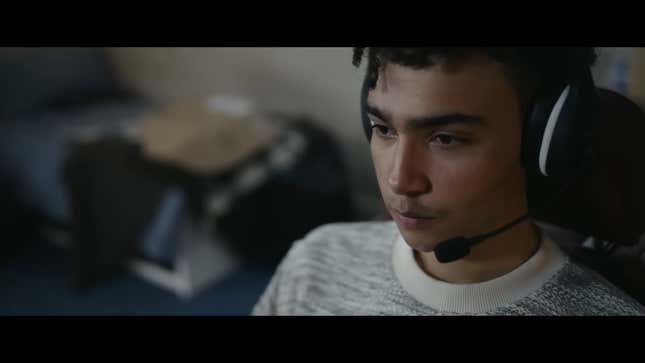 Gran Turismo, Sony's shot at the toy-to-movie pipeline that worked so well for Barbie, comes out at the end of this month. Today, reviews of the movie started popping up all over — it seems some members of the press have already seen it but Jalopnik didn't. But the bosses want those sweet sweet review clicks, and by god I'm here to do the things the bosses want so I can keep my job.
I haven't seen the movie, but c'mon — it's a sports biopic. How hard could it be to work out the plot points and tone on my own? The movie features a real guy, whose story is well known enough in racing circles. It's about a video game, a concept that has been around for 65 years yet still confounds and confuses Hollywood screenwriters. Just mash those two tropes together, right? Simple enough. Here's my review of what the Gran Turismo movie is probably like.
Gran Turismo follows the true story of Jann Mardenborough (Archie Madekwe), the gamer-turned-pro driver who did his training in Nissan's GT Academy — a school that aims to convert racing skill in Gran Turismo (the game) to racing skill in real life. The academy here is overseen by Danny Moore (Orlando Bloom), a starry-eyed executive with dreams of PR glory, and Jack Salter (David Harbour), the gruff racing instructor whose respect Mardenborough eventually earns.
Similarly, Mardenborough is aiming to earn the respect of his parents, played by Djimon Hounsou and Geri Halliwell Horner. They (probably) operate in the typical biopic sphere of "disapproving family that eventually comes around when their child does well" — once again demonstrating that no dream is worth pursuing unless there's a chance of financial success attached to it.
For Mardenborough, that success comes after his academy graduation. Sure, he's beaten the other gamer dweebs, but how will he stack up in proper competition? Unfortunately, his attempts to prove himself are cut short — the infamous Nurburgring crash, which in reality happened years after Mardenborough left the Academy, here serves as his darkest moment. This is the point in the music biopic when the artist gets really into drugs and alienates their bandmates.
After not viewing Gran Turismo, the core feeling of the movie is that it's... really just odd. The video game stylization, the big racing set pieces, these feel like fairly standard fare for modern CGI-driven blockbusters. But they're paired with director Niell Blomkamp's very grounded, down-to-earth style, which seems at odds with some of the film's more stylized moments. This benefits the crashing scenes, where impacts feel visceral and rough, but ultimately detracts from the video game marketing atmosphere. (Probably.)
And, yes, the atmosphere is clearly that of a longform ad. Why does Mardenborough play a PlayStation 5, when that console came out long after the GT Academy shut down? Why are there so many PlayStation logos everywhere? Why am I not-watching this movie, when I could just be playing Gran Turismo 7 instead?
Gran Turismo is a movie to be seen on a plane once your free hour of wifi runs out. Mardenborough's story is a unique one among racers, and the film even portrays some parts of it accurately. At least, I assume it does — I'll have to wait for the film's actual release to know for sure.