Land Rover's entire lineup still sets an impressively high bar for off-road ability, but a new report from the company's Special Vehicle Operations (SVO) division suggests the company wants to offer a Range Rover variant that's built around wheeling rather than luxury. Okay, maybe a little luxury.
"There are four different types of cars we want to do at SVO. There are on-road performance cars, all-terrain performance cars that we haven't done so far, luxury derivatives and what we're calling collector's editions, like the Project 7." The Jaguar Land Rover's SVO division John Edwards told Auto Express. Auto Express even drew up a neat little render of what the SVO's "all-terrain performance car" might look like:
Note: Land Rover's official line regarding that image is "we did not announce anything or distribute those pictures, nor are they related in any way to special operations."
Edwards went on to promise the off-road oriented Rovers would be "abusable rather than too precious," explaining ""It's clearly going to be more obvious on a Defender than a Range Rover, but in a funny way there's more of an opportunity on a Range Rover."
G/O Media may get a commission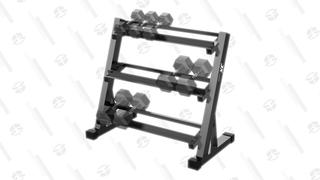 20% Off
JX Fitness Dumbbell Rack
Gains but tidy
Has a three-tier design to help store more weights more conveniently, can safely support up to 1000lbs of weight, which should be enough for most people, has a triangle base for stability, and also features anti-scratch feet which is great if you've built your own studio or workout in your garage.
But that I reckon he means; a Defender already looks rugged while armor and a light rack make a more dramatic change on a Range Rover.
Image via Land Rover classified ad. That genuine Camel Trophy Range Rover competed in three events, and ended up in some guy's private museum on a cattle estate in England.