Nobody is sure what Lamborghini showed off in its super exclusive hologram display at Pebble Beach last week, but we do know it was a ridiculous sports car of which they are not going to make a lot of. Oh, and it will be very, very expensive. Even by Lamborghini standards.
The super secretive upcoming car, of which some details trickled out on Sunday, will be just as batshit balls-out insane as you expect from Lamborghini. Yahoo Autos reports that the company will only produce 20 cars at around $1.2 million each. The car was expected to go public sometime during Classic Car Week, but outside of the previously mentioned hologram folks, we all have to wait for Geneva in March of next year to see this thing.
In a closed presentation to a handful of very wealthy current and potential Lamborghini owners, the company did not risk journalists prying their eyes on their concept by shipping an actual car. Instead they opted for the casual hologram display — because we are now living in the future or something, and that's probably actually more impressive to millionaires these days than a physical manifestation of carbon fiber and rare Earth metals.
At only 20 production models, the car will be far more exclusive than the three main hybrid supercars — the Porsche 918, McLaren P1, and Ferrari LaFerrari — of which it will be competing against at its price point.
Now here's the thing: Most people expect Lamborghini to go with a hybrid setup considering its competition, but I am not so sure.
G/O Media may get a commission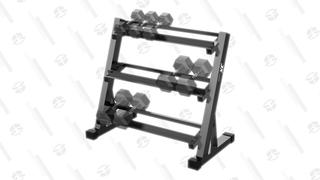 20% Off
JX Fitness Dumbbell Rack
Gains but tidy
Has a three-tier design to help store more weights more conveniently, can safely support up to 1000lbs of weight, which should be enough for most people, has a triangle base for stability, and also features anti-scratch feet which is great if you've built your own studio or workout in your garage.
Earlier this year Lamborghini boss Stephan Winkelmann shot down any chance of the Asterion hybrid GT concept car ever making it to production, saying (and I am paraphrasing) the weight and complications of a hybrid setup dictated the type of car they would produce (more of a Gran Tourer, less of a Track-Eater), and by extension would take the brand away from its ethos of ridiculous sports cars.
It would be extremely contradictory for the head of the company to attack hybrid technology in his vehicles, only to turn around and try to sell 20 of them at over a million bucks a pop. On that note, the Asterion was an early-development concept which was shown not even a year ago. It took Porsche three years to get the 918 into production after showing off its concept.
It would be better for the brand to drop something that slays the Hybrid Three in a more traditional approach, with fire blowing out of everything and the sound sending small children crying to their mothers. As I said earlier, batshit balls-out is what Lamborghini does, and they do it best when people are willing to pay ridiculous amounts of cash for the engineers to have no limits. Unless they managed to get batteries to 1. weigh a lot less in a much smaller package and 2. sound like the shriek of a thousand infants on an airplane, I'm not thinking they have electric plans.
On the other hand, that Urus SUV is coming, like it or not, and Lamborghini seems to be looking for their sales numbers to rise along with their production car price tags. Perhaps somebody convinced ol' Winkelman hybrid technology isn't all bad.
I just hope whatever Lamborghini has in store for their future looks more like the Asterion and less like the spawn of the Alien and Predator.
Top photo: The Lamborghini Egoista, which may look nothing like this upcoming car but we're posting anyway because it's awesome.