On a recent trip to Reno, I was "upgraded" to a 2007 Dodge Caliber by the good folks at Enterprise. (Having reserved an economy-class car, I was surprised that they would call the Caliber something other than that.) Approaching the car, my wife actually said it was "cute." I was expecting her to hate it, given Dodge itself calls the Caliber "Anything But Cute." I thought she'd much prefer the curvier Jeep Compass (which essentially is Pat to the Caliber's Hans and/or Franz). Fortunately, they didn't have a Jeep Compass on the lot.
There's plenty of shrinky-dink Dodge Magnum in the Caliber's looks, especially evident in the chopped roofline. It's a welcome change from the jellybean-like styling of the Neon. There certainly are plenty of lines to admire, if you're into lines.
The cockpit features pretty plasticky surroundings, which are cool looking in a low-budget, "Battlestar Galactica" kind of way. The center dash is finished in matte silver, which surrounds the stereo, HVAC and a series of cubby holes. The gauges are a gloss white with bright orange needles (an art-deco egg timer springs to mind). It was sort of distracting at first, since it didn't seem to fit with the rest of the design themes. These have an Indiglo light-up look at night, and the cup holders in the front light up like that too. Nice touch.
Be wary of the rear hatch; it goes for the KO every time you open it. I don't know if it was just this car with super powerful door lifters, but the Caliber's got a mean uppercut. The 3.5mm socket in the stereo helps avoid FM adapters while you rock out to Steely Dan on your iPod. The rear seats looked a little cramped, but actually weren't too awful. The 60/40 split is always good if you have a bunch of crap with you, and the Caliber back seats fold completely flat behind the fronts. They also have a tough plastic backing on them, so no fabric to wear down or rip.
This SXT-packaged car I had was equipped with the 2.0 liter four and the CVT transmission. I thought it revved a little too much under normal driving, but it would sit at about 3000 rpm doing 85. It accelerates well enough, but it's not really a blast to drive. It handles competently and feels comfy at highway speed, but that's the problem, comfy is as exciting as it gets. It doesn't beg you to drive it like it's rented. It just sort of goes where you point it and doesn't complain. However, making several trips over highway 80 and the Donner Pass, between Reno and Sacramento, I averaged 30 mpg. I was thinking it would return worse mileage numbers every time I filled up, but I was always wrong.
G/O Media may get a commission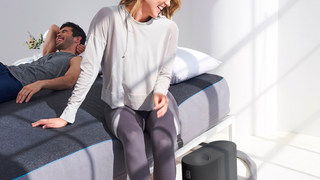 Eight Sleep Pod Cover
In the end, I think this is a great rental car, mostly because of things like the utility of the interior, the iPod plug-in and the better than expected gas mileage. If you're looking to buy, I'd say pass it up for a Honda Fit, or wait for the SRT-4 and get your hoon on. [by Tyler]
Related:
Jalopnik Rental-car Reacharound: 2006 Mercury Milan [internal]