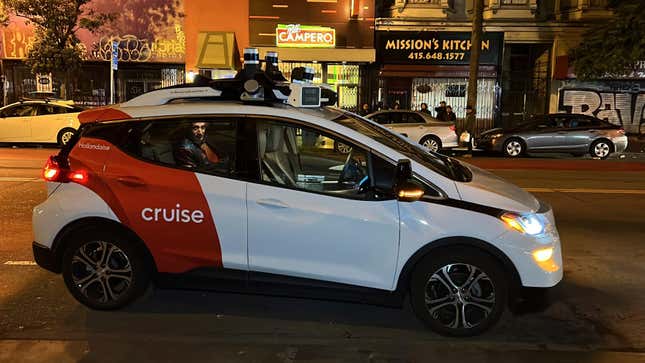 U.S. regulators are reportedly on the verge of deciding on a petition filed by General Motors' Cruise self-driving technology division that would let the company deploy as many as 2,500 self-driving vehicles per year with no human controller. According to Reuters, the petition – which was originally filed in November of last year – seeks government approval to deploy vehicles without any steering wheels, mirrors, turn signals or windshield wipers. We can apparently expect a decision "in the coming weeks."
Right now, Cruise only offers a limited service in San Francisco with a tiny fleet of Chevy Bolt EVs fitted with all sorts of driverless gubbins. Those Bolts aren't what this petition is about, though. Cruise reportedly wants to deploy its own "Origin" vehicle. It has subway-like doors and no steering wheel. It's a box, first and foremost.
All the way back in 2018 (remember 2018? That was like 30 years ago), GM petitioned NHTSA to allow a car built on a Chevy Bolt platform without a steering wheel or a brake pedal on U.S. roads. It didn't really go anywhere, and GM withdrew the petition in 2020 after NHTSA reportedly took no action.
"The central issue is deciding whether vehicles that are driven not by humans but by computers need to comply with safety standards that are fundamentally about human drivers: requirements for mirrors, sun visors, windshield wipers and so forth," Ana Carlson, acting Administrator at the National Highway Traffic Safety Administration said, according to Reuters.
NHTSA is able to exempt autonomous vehicles for research and demonstration purposes. The agency is reportedly looking to establish a new program that aims to give more transparency about AV safety and deployment. It's also meant to assure the general public that NHTSA is overseeing the deployment of AVs on public streets.
Reuters reports that congress has been taking up the debate on whether or not to pass self-driving car legislation for years. In fact, a U.S. House of Representatives subcommittee is planning a hearing on the matter later this month.
Cruise has already had a slight run in with NHTSA. Back in December, the agency opened a formal probe into its autonomous driving system after two reported injuries in rear-end crashes. NHTSA reportedly said Cruise vehicles "may engage in inappropriately hard braking or become immobilized."