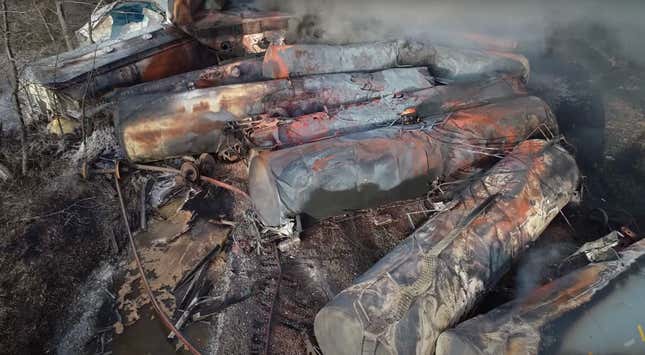 The train derailment just outside East Palestine, Ohio, on February 3 is a continuing nightmare not just for folks in the community but for all of the communities which share water systems down stream. Like most industrial incidents, employees on the ground issued constant warnings that something like the disastrous derailment would happen, only to be ignored.
2024 Nissan Z NISMO | Jalopnik Reviews
Motherboard spent the last two years covering the freight rail industry and this damning report by Jalopnik alum Aaron Gordon paints a terrifying picture of purposeful neglect by railway Norfolk Southern:
"Two years ago SMART [a transportation union] President Jeremy Ferguson warned your publication and anyone that would listen that something like this was going to happen," one of the Norfolk Southern employees Motherboard spoke to this week said. "They're going to keep happening if regulators continue to allow this business model to ravage our nation's freight rail system in the pursuit of profit. My fear is that these corporations have so much money and political influence that nothing is going to change."

Over the past several years, Motherboard has reported that Norfolk Southern's lax safety practices have been applied to its entire network, reflecting a trend happening across the freight rail industry. But the two workers Motherboard spoke to this week said 32N in particular was a known safety risk. Like airline flight numbers, railroads assign the same train number to different physical trains that run the same routes on a repetitive schedule. 32N, which travels from outside St. Louis to the edge of Pittsburgh, has a reputation.

On the run that ended abruptly on the outskirts of East Palestine, multiple red flags, including two mechanical problems, about 32N went undetected or were ignored in the hours leading up to the crash, according to the two workers familiar with the train. These red flags were especially concerning, said these workers, because 32N is widely known among workers as a difficult train to run, not because of especially difficult terrain or equipment, but as a result of management decisions about how the train would be put together.

As a result, 32N has a nickname among some rail workers. It is common for trains to have nicknames in the railroad industry, but, as one worker told Motherboard, the nicknames are given "for a reason." They call this one "32 Nasty."

Norfolk Southern recently skipped a town hall meeting about the disaster this week due to "growing physical threat to our employees and members of the community," CBS News reports. This was a few days after the company announced a $1 million fund to aid residents affected by the evacuation.
The saga of how a railroad poisoned a whole Ohio town is complicated and constantly developing. After the derailment of another Norfolk Southern train in Michigan this week it seems all of America should read up on the dangerous way freight companies do business. Gordon's rundown is both detailed and absolutely chilling. You can (and should) read it in its entirety here.