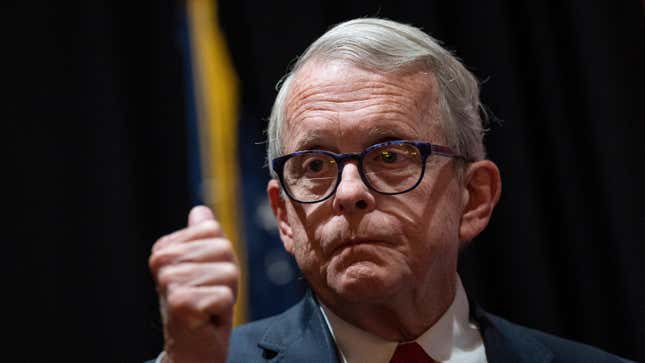 A week and a half ago, a train carrying dangerous chemicals derailed in East Palestine, Ohio. Chemicals spewed from the burning wreck, becoming a massive black plume over the town after railroad company Norfolk Southern began to intentionally release them from damaged train cars. Nearby residents have reported livestock die-offs, and the EPA has found contamination in six rivers surrounding the crash. But according to Ohio governor Mike DeWine, none of this constitutes a problem.
In a Valentine's Day press conference, DeWine gave updates to local and national media about ongoing efforts to clean up the wreck. But, when asked about the Biden administration's response, DeWine gave a curious answer — that the response was more than satisfactory, because there simply aren't any issues.
DeWine's full response can be found in the timestamped video above, complete with all context surrounding the question. The most relevant part, however, goes like this, via The New Republic:
Reporter: Are you satisfied with the Biden administration's response, and is there anything you'd like to see more out of the administration as far as help with this?

Gov. DeWine: Look, our Ohio EPA works with the U.S. EPA, these are the principal people involved. The federal government is conducting an investigation to determine why this wreck occurred, this crash occurred — we await that, and certainly we'll be interested in seeing what is going on. Look, the President called me and said, "Anything you need." I have not called him back after that conversation. I will not hesitate to do that if we're seeing a problem or anything, but I'm not seeing it.
If Governor DeWine isn't seeing a problem, perhaps it's time to check those glasses. All parties involved seem to agree that the wreck has contaminated nearby water sources — nearby residents have even been told to use bottled water until their individual wells can be vetted by the EPA. How does one shower with bottled water? Great question.
A full federal report of the derailment is due within the next few weeks, but it's likely that the problems are far from over. Hopefully, DeWine begins to personally notice them — as long as that Norfolk Southern money hasn't smudged his lenses.