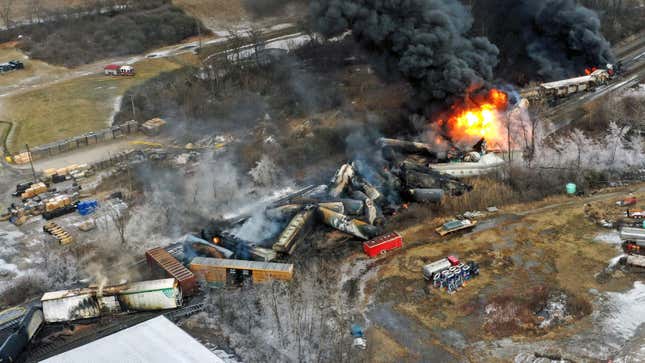 This past Saturday, a cargo train crossing Ohio derailed due to a mechanical failure. We're no strangers to derailments in the U.S., but this one stands out for one major difference: Its cargo. The train held 20 cars of hazardous materials, five of which were filled with vinyl chloride — a toxic chemical that's now at risk of detonating, showering the surrounding area with noxous gases and shrapnel.
Residents within a one-mile radius of the crash have been ordered to evacuate, according to CBS News, under penalty of jail time. Their concern lies with temperature and pressure changes inside the vinyl chloride tanks, due to the nearby burning cars. Vinyl chloride, according to the Associated Press, carries risks of multiple cancers stemming from exposure. Should that chemical detonate, it could send noxious gases — or even debris from the train cars themselves — up to a mile.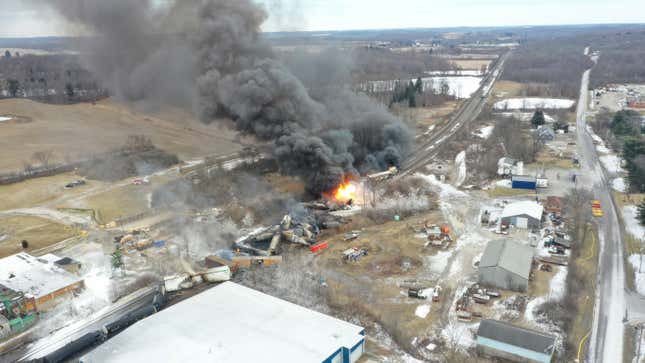 The train was made up of more than 100 cars, en route from Illinois to Pennsylvania, when it derailed last Saturday. CNN cites a mechanical failure as the cause of the crash, noting an issue with one of the train's axles that investigators had identified on video. The train's crew received an alert about the failure and attempted to engage the emergency brakes, but it appears that alone wasn't enough to stop the wreck.
Failures like these were a concern raised by railway unions during their contract negotiations last year — a concern ultimately overridden by the Biden administration over strike fears. It's unclear whether more in-depth safety inspections, something directly cited as necessary by railroad workers, would have averted this current threat. All we know is that those concerns about railway companies prioritizing profits over safety now seem to be ringing terribly true.