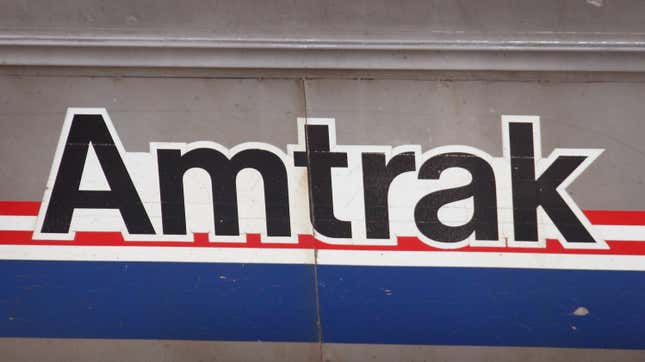 At about 11 p.m. Monday night, a CSX freight train hit an unoccupied vehicle that was stuck on the tracks, causing the train to derail. The incident forced Amtrak to reroute some of its passenger trains to avoid the area of the crash. But according to ABC News, what started as an inconvenience soon turned into a nightmare for the 563 passengers riding on the Amtrak Auto train, which was delayed for 20 hours in South Carolina waiting for a new crew to arrive and get the passenger train to its destination.
Typically, the Amtrak Auto Train takes about 17 hours to travel from Lorton, Virginia (near Washington, D.C.) to Sanford, Florida, just outside Orlando. That's far from a short trip, and longer than it would take to drive the same distance. Amtrak pitches it as a less stressful alternative to driving south for your family vacation, saying: "you'll enjoy a stress-free journey by rail, skipping the traffic congestion on I-95. Put your feet up. Read a book or enjoy free WiFi. Take in the scenery. While you and your family travel in comfort, your vehicle rides along in an enclosed auto carrier. Our auto carriers can even accommodate your SUV, van or motorcycle."
But this particular trip was definitely not stress-free. Because the train had to take a detour, the Amtrak crew hit the legal limit for the number of hours they were allowed to work. A new crew needed to be called in to replace them, but the number of people certified to operate the Auto Train is limited. As a result, passengers were forced to stay on the train while they waited almost an entire day for the new crew to show up.
"The train was detoured off its normal route in order to continue operating south," Amtrak told ABC News on Tuesday. "We have been providing regular updates to customers, along with meals, snack packs and beverages. The onboard staff is working with pet owners to provide bathroom breaks."
Passengers understandably were not happy with this delay and the complications it caused, with some reportedly going as far as calling the police. ABC News reporter Sam Sweeney tweeted a video where an announcer can be heard saying, "For those of you that are calling the police, we are not holding you hostage. We are giving you all the information which we have. We are sorry about the inconvenience."
Eventually, though, the replacement crew arrived, and the train was able to begin moving again. It made it to its destination Wednesday morning, 37 hours after its initial departure. Hopefully, everyone is okay, because that sounds like the train trip from hell.