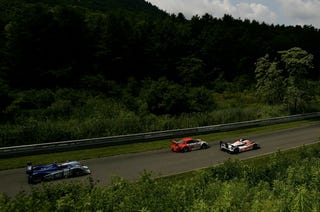 Photo: Darrell Ingham/Getty Images
The American Le Mans Series returns to Lime Rock Park in Lakeville, Connecticut tomorrow for the Northeast Grand Prix — the first race since Le Mans for some teams, and the first after a seven-week break in the action for others. Qualifying times are already at near track-record levels, and the fastest times are coming from the smaller, less powerful P2 cars. Romain Dumas turned a 44.659 in his #7 Penske Porsche RS Spyder, a full five P2 cars and two seconds ahead of the seventh and eighth qualifying Audi R10s. Uh oh.
The 1.53-mile Lime Rock course is by far the shortest on the ALMS calendar, and only has two left turns, including a IMSA-mandated chicane after a tricky uphill, but drivers can carry tremendous speeds through most of them. Corners are closer together than at other parks, and the prototype cars, with their massive downforce, must negotiate the less lamprey-like GT cars almost continually. Audi R10 driver Allan McNish recently called the track one of the more difficult circuits in America.
Behind Penske in the qualifying order is another RS Spyder, that of Dyson Racing, with local boys Highcroft Racing and Andretti Green Racing's Brian Herta following in their Acura ARX prototypes. A Radical P2 car from van der Steur Racing in Maryland will make its ALMS debut at Lime Rock, following a preseason crash and subsequent engine issues that sidelined it for the first five rounds. The independents will be looking to get in a few punches versus the Porsche, Acura and Lola-bodied cars. Corvette will once again play beat-the-clock at Lime Rock, running unopposed in the GT1 class.
We like GT2, since that's where all the ALMS action seems to be these days. The Peterson/White Lightning Ferrari F430 GT piloted by Thomas Enge is currently tops in class, with the ever-present Risi Ferrari and sports car veteran Bill Auberlen in his Panoz Esperante GTLM second and third in class, leading a swarm of Porsches.
We'll be on scene for the main event, starting at 3:00 PM EDT. But those unable to make the sports-car pilgrimage to northern Connecticut can catch the action on tape delay, starting at 1 p.m. Sunday on CBS.
Related:
You Are There: The American Le Mans Series New England Grand Prix, July 1, 2006 [internal]