So, Torchy's got his bug, Doug has had his Ferrari (now will have GT-R?), Stef has her Porsche, and I have my Honda Logo TS. I have no idea what the heck Matt has (probably a type of Batmobile—Mattmobile?). The others? Uh... I should ask. In any case, we love each of our very different cars and that's what makes Jalopnik great.
For those of you who may not be aware of the history behind the itty bitty Honda hatchback from early 2000, I acquired it for about $975 with inspection, taxes, valid registration (as in, it could legally be driven, although reregistration must be done in my name), even liability insurance, with only 130K KM (80,700 miles) on the clock. It isn't a kei car, although it's about the same size. It has a ~90HP D-series engine, basically a non-VTEC Civic engine from that era. People have swapped in B-Series and K-Series motors. It's essentially just a baby Civic. Its designation is the GA3. I usually just call it the GA.
It's automatic, and that's fine by me because I don't currently have a manual transmission license, and because I spend most of my time driving in rush hour traffic, every morning and every night. The TS version like mine did come with a sport button which allows shifts at higher RPMs—around 6,000. I find that the sport mode works as advertised and is very responsive and fun.
The interior was perfect, although I tossed some DC5 Integra Type R Recaros in almost immediately because they fit the Type TS style of the interior trim. The exterior really needed some major attention. And it still does. I've kept it washed and waxed, I undid some horrid rattlecan "repairs" in the paint job, but some panels need to be replaced, and the full back bumper deserves an entire paint do over. However, given how dull, lifeless, and well... just plain sad it looked before I took it over, I'm impressed with the results.
G/O Media may get a commission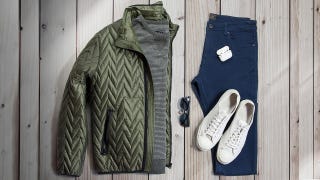 60% off
Jachs NY Fall Sale 60% Off
But, oh god, that wheel gap:
I pretty much knew before I even took acquisition of the car that a drop was going to be necessary. For such a small car with such a high rise (it's short because it's high as compared to an EG, EK or a DC), that much wheel gap just looked ridiculous. So not long after taking possession of the GA, I also managed to track down some lowering springs for it. My options are very limited now. They didn't use to be, but the Logo's last year was 2000, and the Fit took over its place. Trying to find anything, OEM or aftermarket, is always a struggle. So, limited by what I could find, I was relieved to find a set of Tanabe NF210 springs through the Up Garage used parts network of stores. I had to wait a while to figure out my installation options before I put them in.
After months of internal back and forth, I decided not to replace them myself. I didn't have the tools, such as spring compressors, and my apartment complex seems to have issues with anything more complicated than washing a car or maybe changing a tire. I took it back to Up Garage for them to install.
Now that they're in and I've spent the day driving around on them, I can offer my thoughts on how the NF210s compare to the stock springs. And I feel that they compare very positively. I can also compare them to my memories of my Eibach Sportline springs I had on my EK.
Drop
Before:
After:
The drop is immediately noticeable, both visually and in feel. It's a smaller drop than I would have had with with the Eibach Sportlines, but that's fine. I actually think going too aggressive on this would have caused me some issues with wheel well rubbing, and I'm not sure it would have worked with the adorable nature of the GA's profile. My car is cute. I want to keep it cute. I like that about it.
Ride
I was actually rather shocked to discover that my ride is now less uncomfortable than with the stock springs. Given that my Eibach Sportlines created a much stiffer (and sometimes even jarring) ride vs the EK stock springs, I had steeled myself for that feeling in the GA. It shows the difference between these two products, not just because they're different companies, but because the NF210s and the Sportlines are not comparable products. Although the NF210s say they are designed for "max comfort," I wasn't really expecting them to make my ride smoother and more comfortable, but they did, and without making the suspension seem "mushy." Also, I had a slight pull to left before, and thought I might need an alignment. I no longer have that issue after the installation of the Tanabe springs.
Handling
The GA now corners more tightly, and the power steering seems to have a lighter touch. The vehicle is a lot easier to handle, even at high speeds (I think I got it around 100KM/hr on the bypass, and found it surprisingly a bit too responsive when I decided to change lanes). It'll take some getting used to, because with the lighter touch of the steering, I need to avoid cutting too sharply, rubbing my wheels, or not actually going around a curve, but rather into the space before it. I wasn't expecting such a significant increase in nimbleness, but it's definitely there.
Overall, I'm really happy with these springs, and I think they are exactly what I am looking for in what is essentially my commuter daily driver. This isn't a track car, it certainly isn't a fast attack drift hatchback, despite where I live in Japan. This is a fun, spunky, and adorable mini-EK, and I think taking design cues from the Civic Type R EK9, but not going full blown that direction is what's best for it.
Here are a few other angles:
And on my way home from the shop, I even found some Honda friends:
A Honda CB 400, my GA3, and a DC2 Integra Type R... That Nissan Tiida, though. It just had to crash the Honda holiday.
Images via Kat Callahan/Jalopnik.