Welcome to Must Read, where we single out the best stories from around the automotive universe and beyond. Today we have reports from Green Car Reports, Motorsport and Vice.
For some unknown reason, people are still buying Fisker Karmas. Green Car Reports decided to find out why.
The 2012 Fisker Karma remains a stunning car, regardless of its range-extended electric powertrain.

While the struggling-though-not-yet-bankrupt company remains in limbo, with a purchase reported but not yet confirmed, it hasn't built cars since July 2012.
G/O Media may get a commission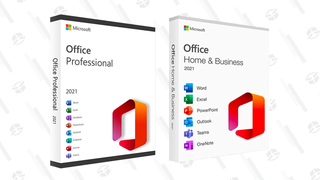 89% off
Microsoft Office Professional 2021 Lifetime License
IndyCar has been on the brink for a while. Veteran Gordon Kirby gives his assessment of the sport in 2013.
It was good to watch a hard-fought IndyCar season-closer in California with Scott Dixon taking a very deserving third championship. Dixon has now won three IndyCar titles in 2003, '08 and this year while Chip Ganassi's team has won six of the last seven championships and accumulated 10 championships over the last 18 years in CART/IRL/IndyCar. These came in 1996 with Jimmy Vasser, 1997 and '98 with Alex Zanardi, '99 with Juan Pablo Montoya, plus three with Dixon and four more with Dario Franchitti in 2007, '09, '10 and '11. Quite an achievement.
Uggghhhh.
In the murky, convoluted world of taxation, developing a tax that corresponds directly with consumption is an ideal that can't always be met. Sure, a sales tax is pretty linear, but how do you measure use of, say, streetlights and tax people accordingly? It's a conundrum highlighted by America's crumbling roads. Some people drive more miles, others with heavier, road-buckling loads. Shouldn't they pay more to keep them up?