The Morning Shift
All your daily car news in one convenient place. Isn't your time more important?
Good morning! Welcome to The Morning Shift, your roundup of the auto news you crave, all in one place every weekday morning. Here are the important stories you need to know.
1st Gear: The White House And California Are Going To Talk This Out
When it comes to fuel-economy targets, the Trump administration and the state of California have been at war for a couple of years now. California wants to keep the Obama-era fuel-economy regulations, which mandate a 54-mpg standard for light-duty vehicles by 2025, and the Trump administration wants to back them down.
The disagreement has put California and the administration on course for an all-out battle over fuel economy, with lawsuits and efforts to block any changes to the current mpg rules. The Trump administration recently proposed to freeze standards at 2020 levels through 2026, and there's also been disagreement between the administration and California over the state setting its own fuel-economy standards—separate from whatever happens for the U.S.
But White House officials and representatives from the California Air Resources Board are supposed to meet soon to talk this out, according to Automotive News:

President Donald Trump administration's proposed rule, expected to be made available for public comment later in June or July, will include a series of alternatives but the preferred alternative will be to freeze requirements at 2020 levels, officials said.

The White House Office of Information and Regulatory Affairs, part of the Office of Management and Budget, will meet separately on Tuesday with the Alliance of Automobile Manufacturers and the California Air Resources Board. The trade group represents General Motors Co., Volkswagen AG, Toyota Motor Corp. and other major companies.

Reuters on May 31 reported the Transportation Department had submitted a proposal to the White House for review along with the EPA that would back freezing requirements at 2020 levels through 2026 and would bar California from setting stricter standards than the federal government.
G/O Media may get a commission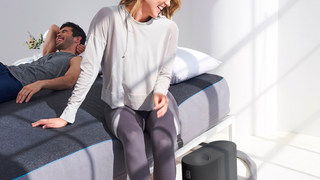 Eight Sleep Pod Cover
Sen. Tom Carper said a draft detailed the Trump administration's preferred method for changing fuel-economy standards, the 2020 freeze, estimates Americans as using 206 billion more gallons of gas through 2050 compared to what would likely be used under the current standards, according to Automotive News. That's a whole lot of gas.
2nd Gear: Driverless Cars Won't Get Rid Of Insurance, Just Change It
Oh, you thought your future driverless car would get rid of any potential for crashes or any need for insurance because robot drivers are better than human drivers, right? Nope. You'll still need insurance, according to Bloomberg.
Bloomberg analysts don't even expect revenue declines for insurance as actual, fully driverless cars come onto the market—which, contrary to some stupid and dangerous beliefs, we are not there yet. That's compared to earlier reports like a Morgan Stanley estimate from 2016 that said the car-insurance business could contract by as much as 80 percent by 2040.
Instead of a decline, Bloomberg analysts think there will be a gradual shift in the insurance companies offer.
But as a handful of fatal accidents involving autonomous vehicles has made clear in recent years, insurance coverage will probably evolve, not disappear.

One thing that will change is who pays for the policy, according to [Bloomberg New Energy Finance]. Rather than individual drivers, manufacturers and technologies companies will be more likely to need coverage, and that shift could be a boon for insurers that are quickest to adapt.

"While the nature of the premium might change, the opportunities to the insurance industry would be greater," Fred Donner, senior managing director at FTI Consulting Inc.'s global insurance practice, said in an interview. Donner said one such opportunity is cyber insurance to protect against cars getting hacked.
Bloomberg also makes a good point in that with driverless technology, fixing damage from car wrecks will become a lot more expensive. Not only will repairs likely involve a lot of sensors, but driverless vehicles need a big robot brain to guide them along.
Plus, the switch to driverless vehicles won't come overnight—it's starting with the assistance features and it'll gradually shift to less human control, meaning there isn't a catch-all fix for insurers to come up with.
3rd Gear: Renault Isn't Sure About Its Nissan Alliance But Is Sure About EVs
It's been a weird week for Renault. First, news came out that CEO Carlos Ghosn may step down from his role before his term ends in 2022. Now, said he's not sure whether the Renault-Nissan-Mitsubishi alliance can continue.
Bloomberg reports that Ghosn, whose $9-million pay package as CEO has been questioned by investors including the French government, said the alliance will be reworked by 2022. Basically, the companies have stakes in each other and the French government owns 15 percent of Renault, making it Renault's largest shareholder. It's really a complicated thing they've got going on.
From Bloomberg:
Asked about Nissan CEO Hiroto Saikawa's comment that he sees "no merit" in combining the companies, Ghosn said: "He didn't say that. He said you have to first determine the merits of a combination before thinking about it, which is completely reasonable."

Renault shares rose 1.1 percent to 85.92 euros at 9:15 a.m. in Paris, giving a market value of 25 billion euros ($29 billion).

The partnership has a complicated structure with Nissan holding a 15 percent stake of Renault and no voting rights. Renault, the smaller and less valuable partner, has 44 percent of Nissan and can vote on corporate matters. In 2016, Ghosn added Mitsubishi Motors Corp. to the mix after the company had been caught falsifying mileage estimates for several of its vehicles.
Ghosn's talked against doing a quick combination of the companies because of failed mergers in the automotive industry, but he also said the alliance isn't having problems in the short term—it's long-term issues they're trying to avoid, Bloomberg quoted Ghosn as saying.
4th Gear: Renault's Throwing The Cash Toward EVs
An alliance rework isn't the only thing Renault as a company is thinking about. It's also planning to invest $1.2 billion into electric-vehicle production, partly to satisfy its biggest shareholder, the French government.
From Bloomberg, again:
Renault will equip four French sites with new electric car production capacity to increase output and update its models, it said Thursday in an emailed statement. Earlier Thursday, the French government confirmed it would vote against Chief Executive Officer Carlos Ghosn's compensation last year, after extracting a commitment to cut his pay by about 20 percent for this year. The company's annual meeting will take place in Paris Friday. [...]

The commitment to build electric cars at French sites, aimed at securing future jobs as the industry undergoes unprecedented change, should help improve Renault's standing with the French government. Other carmakers like Volkswagen AG and BMW AG are also investing heavily in new electric car lineups.
Ghosn said in a statement that the EV production investments "will increase the competitiveness and attractiveness of ... French industrial sites."
5th Gear: Track Days At Luxury Hotels Are Apparently A Thing Now
If you thought expensive track days with cars you'd never get your hands on otherwise were reserved for the wealthy car nuts and you, once every 10 years when you've saved enough money to treat yourself for a birthday, you would, apparently, be wrong. Luxury hotels and race tracks are apparently teaming up to offer vacationers track days.
Here's the gist of it all, from Bloomberg:
Despite the ubiquity of luxury automaker partnerships at high-end hotels—where you can get chauffeured to and from dinner in a Bentley, or test-drive a Tesla—few properties cater to car lovers in meaningful ways.

Now, tracks across the country—including the Indy Speedway, where two hotels belonging to Hilton's Tapestry Collection are currently under construction—are pairing up with luxury hotels in new and exciting ways. And hotels are eager to court car lovers in more exciting ways.

"Millennials—new young professionals—they want something more memorable than a golf course for their corporate outings," explains Sandie Currie, chief operating officer at the Virginia International Raceway, a track whose perimeter is flanked by a handful of two-story villas. "Driving on a track, that's the kind of thing they're looking for," she tells Bloomberg.
Ah, "millennials" and "new young professionals" in the same sentence. Those always go well. (Also, don't we millennials hate cars?)
Reverse: The First Black Pilot Gets Her License
Bessie Coleman became the first black pilot to be issued a pilot's license on June 15, 1921, according to the Smithsonian. She trained in France and got her license from the Federation Aeronautique Internationale, then returned to the U.S. in September of that year with the goal of establishing a school for black pilots, but died in a plane accident in 1926.
The crash happened with her mechanic William Will flying the plane, according to the University of Missouri Kansas City's student paper, the University News, when a malfunction sent them into a nosedive and killed both.
Neutral: At The Right Price, Would You Do A Hotel-Partnered Track Day?
People at expensive track days can be insufferable anyway sometimes. But a bunch of wealthy hotel goers who may or may not actually like cars? Would you share a track with them?