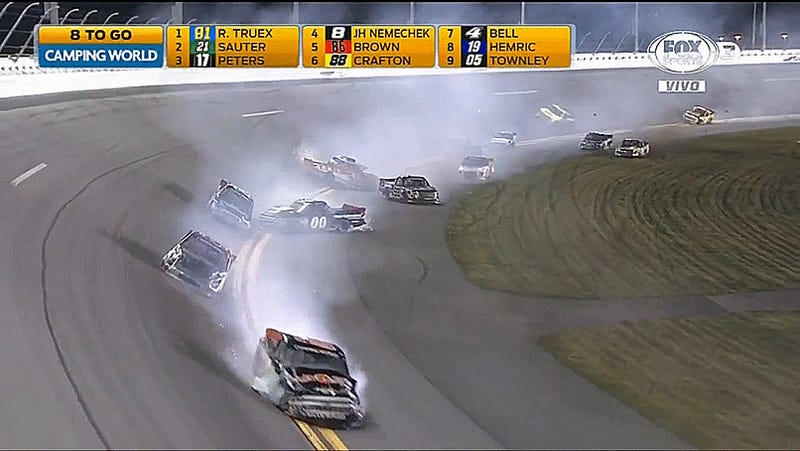 As typical of NASCAR races at Daytona International Speedway, Friday night's Camping World Truck Series opener had a lot of wrecks. Big wrecks, at that. But of the few trucks that made it through the carnage, one—driven by racer and occasional contributor Parker Kligerman—carried a Jalopnik sticker plastered on its side. The bump is real, folks, and comes straight from us to you.

While the non-stickered truck of Johnny Sauter took home the winner's trophy in the NextEra Energy Resources 250 at Daytona, the Jalopnik-stamped No. 92 truck of Kligerman survived some major wreckage in order to finish third in his first truck race since 2014. Here's an incarnation of the famous Big One, in which Kligerman is the white truck casually dodging everything on the apron:
Forgive the Spanish commentary, it's the best video we could find.
A last-lap wreck didn't end nearly as well for Kyle Busch Motorsports driver Christopher Bell, whose truck flipped so effortlessly and violently that it almost resembled a Hot Wheels car being thrown across the living-room floor. Bell was in third at the time of the wreck, which occurred just as the white flag came out.
Bell walked away from the crash, heading to a local hospital for a precautionary evaluation. According to a team statement, the hospital released Bell early on Saturday morning. The wreck ended the race under caution, giving Sauter the win and putting Kligerman in third:
Wreck avoidance, podium finishes—when you have Jalopnik on your race car, no harm can come to you.
Well, most of the time.
---
Contact the author at alanis.king@jalopnik.com.