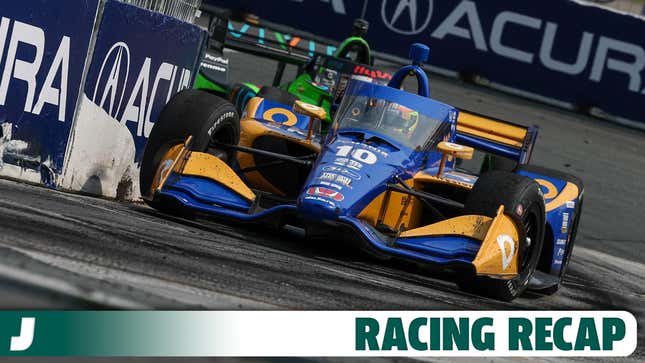 It's Monday, July 17, 2023 and this is Race Recap, your summary of last weekend's motorsports action. In IndyCar, Alex Palou had his front wing and win streak snapped in Toronto. Formula E's doubleheader in Rome featured significant wrecks in both races. NASCAR's visit to New Hampshire Motor Speedway was pushed to Monday by rain.

Lundgaard Gets His First IndyCar Win In Toronto
In a month and a half, Rahal Letterman Lanigan Racing has gone from IndyCar's basement all the way up to the penthouse. RLL were the slowest qualifiers for the Indianapolis 500, with Graham Rahal failing to qualify. Christian Lundgaard put his RLL on pole on Saturday during a rain-impacted qualifying session. The Dane converted the pole position into his first IndyCar race victory yesterday, the team's first win in three years.
Going into the weekend, the focus was on championship leader Alex Palou as he aimed to win his fourth race in a row. The Spaniard had to fight to the front from 15th on the grid. His ascent was hampered by a damaged front wing. Somehow, Palou held on to second place against Colton Herta while his front wing's right side dragged against the pavement.
Race Results
1. - Christian Lundgaard (Rahal)
2. - Alex Palou (Ganassi) - +11.789 seconds
3. - Colton Herta (AndrettI) - +15.059 seconds
4. - Scott Dixon (Ganassi) - +15.760 seconds
5. - Josef Newgarden (Penske) - +19.242 seconds
Dennis Survives Formula E's Rough Rome Weekend
The first race of Formula E's Rome doubleheader was overshadowed by a violent high-speed pile-up that destroyed six drivers. Jaguar's Sam Bird lost control of his car through a flat-out left-hander. He was hit by Envision's Sébastien Buemi, then Maserati's Edoardo Mortara. Despite the blizzard of debris, all drivers involved were okay.
The second race would have direct championship implications as Mitch Evans lost control of his Jaguar under braking and slammed into Nick Cassidy on the second lap. With both his title rivals out of the points, Andretti's Jake Dennis won the race and turned a five-point deficit into a 24-point lead. The season finale doubleheader takes place in London in 2 weeks.
Race 1 Results
1. - Mitch Evans (Jaguar)
2. - Nick Cassidy (Envision) - +1.639 seconds
3. - Maximilian Günther (Maserati) - +9.126 seconds
4. - Jake Dennis (Andretti) - +21.010 seconds
5. - Jean-Éric Vergne (DS Penske) - +21.482 seconds
Race 2 Results
1. - Jake Dennis (Andretti)
2. - Norman Nato (Nissan) - +3.105 seconds
3. - Sam Bird (Jaguar) - +3.633 seconds
4. - Edoardo Mortara (Maserati) - +4.357 seconds
5. - Sébastien Buemi (Envision) - +5.004 seconds