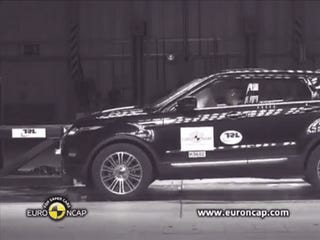 2012 to 2013 Land Rover Evoques and 2010 to 2015 Land Rover LR2s, as many as 40,551 SUVs, are being recalled because the cars can't tell if someone's sitting in the front passenger seat. With that system not working correctly, the passenger airbag might not go off in a crash.
Modern cars have what's basically a weight sensor in the passenger seat that tells the car's computer whether or not there's a person sitting in it. The more advanced versions figure out how much the person weights, and combine that information with whether or not they're wearing a seatbelt to determine what degree to deploy airbags in a crash.
Land Rover calls their system the "Occupant Classification System," and it's "Electronic Control Unit" is the subject of this recall, NHSTA campaign number 14V-395. Land Rover's reference code for the issue is P046.
If you have an affected vehicle, apparently Land Rover is going to start fixing them on August 30th but I bet if you roll up to the service desk in your finest Woolworth jacket and khakis they'll help you out. According to Land Rover, all dealers need to do is update the Restraints Control Module using their Integrated Diagnostics Systems tool (code reader) and "download revised software."
Sounds like a great opportunity to snipe some dealership coffee.
Hat tip to Ari!