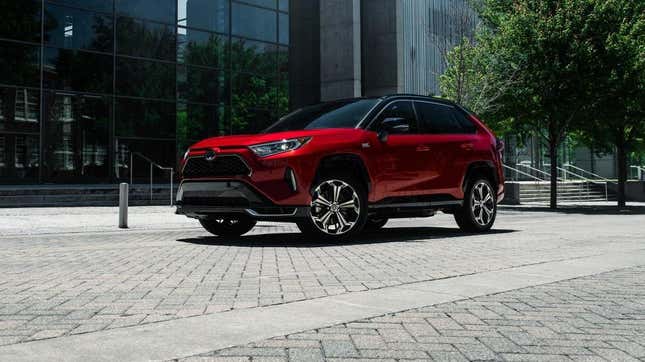 Toyota is recalling about 16,000 of its 2021 RAV4 Prime plug-in hybrid crossovers in the U.S. because of a bug that could shut down the hybrid system. Toyota said in a statement that the problem deals with the plug-in's Hybrid Vehicle Control ECU.
My First Car: Randall Park Cruised LA in His New, Gifted 1992 Toyota Corolla
According to the automaker the hybrid system in the RAV4 Prime can shut down if the driver is continuously using "EV mode" in cold weather and the accelerator pedal is rapidly pressed to accelerate the vehicle. This will lead to the system shutting down and cutting power at high speeds which, of course, increases the risk of a crash.
That ECU is used to calculate the hybrid battery output, and because of a bug in the system, it may not limit said output as required, Carscoops reports. So, if that accelerator pedal is repeatedly pressed, battery voltage may decrease and drop below a specified threshold. Vehicles experiencing the fault will display a warning message on the dashboard.
Toyota says its dealers will update the software in the HEV-ECU free of cost to the 16,679 customers who will be notified by early April of 2023. Cars affected were built between November 25, 2019 and June 24, 2021. If you're not sure, you can use our recall guide to find out if your RAV4 is one of those affected vehicles.
The outlet reports this isn't Toyota's only RAV4 recall in the past half year. A few months ago, RAV4s equipped with the eight-way front power-adjustable passenger seat were recalled because there was a chance that a stopper in the seat frame could interfere with the Occupant Classification System that detects occupant load (read: weight). If that malfunctions, the airbag may not deploy the way it's supposed to in a car crash.