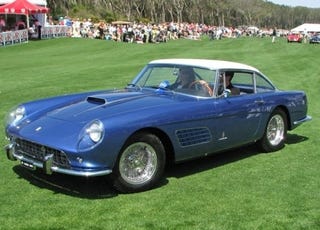 A member at FerrariChat was at his Torino, Italy shop and spotted what he described as a one-off modern interpretation of a Ferrari 410 Superamerica wearing Pininfarina-crossed flags on the rump. We've got no pictures, but we're told it's real.
The poster was taking his Alfa Romeo 8C Spider in for service when he spotted what he described as
"a new Pininfarina one-off, it looked to me like a modern version of the 410 Superamerica, and had Pininfarina "crossed flags" badges in the back. [with coloring] a medium shade of metallic grey... it might be Grigio Titanio. Definitely not Argento Nurburgring and lighter than both Ferrari's Grigio Silverstone and Maserati's Grigio Nuvolari..."
Jim Glickenhaus, who commissioned the one-off Ferrari P4/5 and is working on the P4/5 Competizione, knows about the car but is staying mum on the subject because he isn't the owner. If there's information forthcoming, it'll come from the person holding the title — or someone with a camera who catches it on the streets.
Apparently it's somewhere in the neighborhood of Torino, Italy, so if there are any readers in the area with skills in automotive photographic espionage, please check out the Ferrari dealers for anything you don't recognize. [FerrariChat]
Photo credit: Sports Car Digest