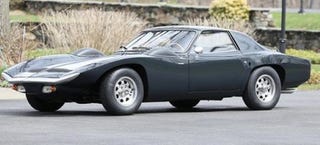 What happens when you take a Chevrolet Corvair, drape it with a gloriously sextastic body, and incorporate actual safety features into a car that desperately needed them? You get the only Fitch Phoenix, and it can soon be yours.
Designed by the inimitable John Fitch, a man who I can't imagine not wearing an ascot and driver's cap, the Phoenix is automotive Girltalk. A little bit of Corvette, some Ferrari, a little Porsche all in one package. It's shorter than the Corvair and weighs just 2,000 pounds total.
But it's also innovative. The front fenders hold two spare tires. The rear window goes up and down electrically. It has a roll bar built into the rear roof. Everything about it screams future.
At least it did once.
But before the Phoenix could go into production, it was killed by two factors. First, was the government. Tightening regulations meant that building the Phoenix would be cause for massive investment. The second problem was GM, since they killed the Corvair right when Fitch was ready to enter production.
Former racer and innovator Fitch kept the prototype after it was completed and drove it around his Connecticut home. It was also a frequent sight at Lime Rock Park years ago when Fitch would be in attendance at the historic races.
The car will cross the auction block this weekend at the Greenwich Concours and is expected to sell for somewhere around $200,000.
Photos: Bonhams