Two cars that qualified at the front of their classes were spotted sitting in pit lane while everyone else was doing their out-laps. One of the favorites to win the race, the No. 67 Ford GT, was spotted up on jack stands. That's not how you start a race, man.
The No. 75 Mercedes, who won pole position in the GTD class, had a fuel leak during the warm-up session this morning, which the team had to fix. It was held on pit lane as everyone else went out for formation laps.

The GTLM pole sitter, the No. 67 Ford GT, just plain wouldn't start on the grid. Mechanics were spotted trying to put it into gear, fiddling with the gear shifter and the wheels.

Both pole-sitting cars had to do a drive-thru penalty for missing the grid.

Of course, the kings of bad luck, the Mazda Prototype team, didn't take long to join them in the pits. The No. 55 Mazda had a flat left rear tire within the first few minutes:

G/O Media may get a commission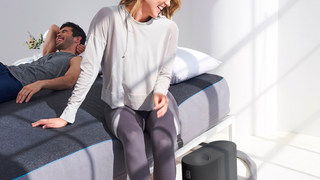 Eight Sleep Pod Cover
Mazda, we like you guys. We want you not to suck this year. Don't get "Quit Playing Games With My Heart" stuck in my head already.

Extreme Speed Motorsports' is having trouble with their No. 2 Nissan DPi already as well, having to take the cover off the rear of that car. They're working furiously on the same spot that caught them out yesterday.
Sebring is starting to kill cars already and it's not even 20 minutes in.
Update: ESM confirmed that their No. 2 car had a boost issue, just like they experienced in qualifying yesterday.

They've since brought their car in again for another quick preventative fix, opening up the drivers' side door to tweak something inside.

Fun side note: The Ford GT that had gearbox issues before Le Mans was also No. 67. Oops!