Good Morning! Welcome to The Morning Shift, your roundup of the auto news you crave, all in one place every weekday morning. Here are the important stories you need to know.
1st Gear: Well Played, Nissan
In case you missed it, the big news this morning—and probably some of the biggest auto news we'll see this year—is Nissan seizing a 34 percent controlling stake in Mitsubishi Motors. But let's take a step back and realize what a stroke of genius this really is, as reader hike so kindly pointed out.
It was Nissan who called attention to the fact that partner Mitsubishi was greasing fuel economy tests in Japan, on Mitsubishi cars that were also badged as Nissans. That sent Mitsubishi into crisis mode, tanking their stock price and opening them to massive consequences.
G/O Media may get a commission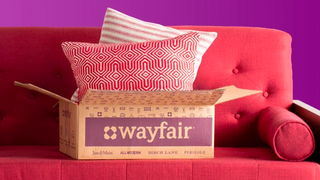 Big deals
Wayfair Surplus Sale
Then, when things got really bad just three weeks later, it was Nissan who swooped in to save Mitsubishi—and also giving them access to a lucrative Southeast Asia market where they have struggled, a new manufacturing partner, and combined resources for new cars, platforms and electric technology.
Damn, man. Carlos Ghosn is terrifying.
2nd Gear: But It May Be His Biggest Challenge Yet
The deal is also a huge test for Ghosn, as he'll be getting into bed with one of Japan's biggest and most powerful keiretsu—"the interwoven networks of enterprises that still wield power in the country's business world," as this Bloomberg story puts it:
While the proportionate allocation of board seats in the deal would at least be an improvement on the current setup, which is dominated by veterans of the Mitsubishi keiretsu, Mitsubishi group companies will still hold more than 30 percent of the shares after the deal is complete, the carmaker's CEO Osamu Masuko said Thursday. That should leave them more or less even with Nissan.

Ghosn has dined out for almost two decades on how he took on the now all-but-forgotten Nissan keiretsu and won, but in that instance he was dealing with an industrial group that was already fatally wounded by Japan's 1990s property crash and the 1997 collapse of its life-insurance business.

The Mitsubishi keiretsu will be a tougher nut. The carmaker's largest shareholder, Mitsubishi Heavy, is forecasting its highest operating profit in at least a quarter of a century next year. Mitsubishi Corp., the largest of Japan's trading companies by market value, and Mitsubishi UFJ, the country's biggest bank, also have key shareholdings.
3rd Gear: The Ultimate Self-Driving Machine
In five years BMW's flagship sedan will be a very different machine: an electric i-car that can drive itself, reports Bloomberg and Automotive News Europe:
The addition to the automaker's i subbrand, which currently includes the i3 EV and i8 plug-in hybrid, will be able to drive itself in many situations, CEO Harald Krueger said in comments prepared for the company's annual shareholders meeting in Munich today.

The sedan will have a new interior and offer a cutting-edge electric powertrain, Krueger said.

The new car is the centerpiece of BMW's effort to defend its position in the luxury-car market from challengers such as Tesla Motors.

The iNext will be "our new innovation driver, with autonomous driving, digital connectivity, intelligent lightweight design, a totally new interior and ultimately bringing the next generation of electro-mobility to the road," Krueger said.
4th Gear: Hyundai Takes On The Chinese
While the Chinese market has typically been big on luxury vehicles, Hyundai and Kia are taking the opposite approach, reports Reuters:
Hyundai Motor (005380.KS) and affiliate Kia Motors (000270.KS) plan to launch three low-cost sport utility vehicles (SUVs) in China, their biggest market, from next year, people with knowledge of the plans told Reuters.

Making cheaper models, their first for China, marks a shift for the South Korean automakers, whose strategy of appealing to price-conscious Chinese buyers with older model versions has faltered as local brands surge.

Hyundai and Kia's China market share slid to a 7-year low of 8.9 percent last year from 10.4 percent in 2014, according to company data, hit by the rise of Chinese rivals including Great Wall Motor (601633.SS). The drop in annual sales was the biggest among the top 10 automakers in China, data from IHS Automotive showed.
5th Gear: Volkswagen Dealer Relief On The Way
Meanwhile in Dieselgate, Volkswagen's U.S. dealers have been hit hard by lagging sales since the scandal went public last September. Now Volkswagen is in talks to compensate its dealers somehow, reports Automotive News:
The move toward a settlement with dealers comes nearly six weeks after the National Automobile Dealers Association convention, where an off-the-books gathering of hundreds of VW retailers spurred a committee of six dealers, headed by Florida dealer Jason Kuhn, to press VW executives for a relief package on behalf of all 652 VW dealers in the U.S.

Volkswagen and Kuhn, president of Kuhn Automotive Group of Tampa, Fla., confirmed to Automotive News on Wednesday that they had agreed to begin discussions.

Formal negotiations with dealers are not yet underway. The form and amount of the settlement package sought by the committee is unclear, though dealers will likely be asked to waive scandal-related legal claims against the automaker in exchange for a payout.
Reverse: RIP Adam Petty
Neutral: Will The Mitsu-Nissan Deal Work?
Or is this a tie-up destined to fail?