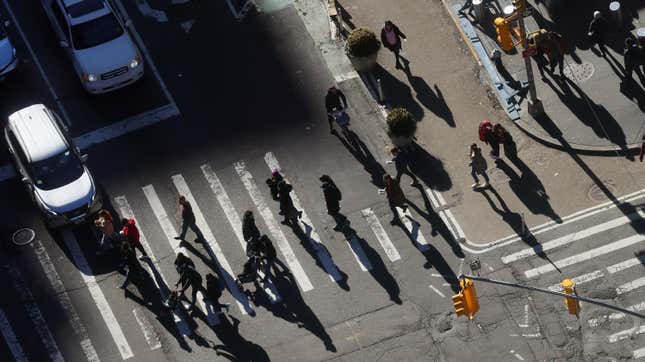 Currently, the National Highway Traffic Safety Administration's New Car Assessment Program tests cars to see how safe they are for occupants. But what it doesn't do is test how safe cars are for people outside of the car. But that's likely about to change. Yesterday, the NHTSA released a proposal to update NCAP testing to include pedestrian crashworthiness tests.
This proposal comes after the Department of Transportation released its new National Roadway Safety Strategy last year that outlined a plan to make our roads safer as it works toward its ultimate goal of eliminating road deaths. In addition to testing how well vehicles protect pedestrians, the NHTSA's proposal also includes a plan to set safety standards for automatic emergency braking, which includes pedestrian detection.
"Ensuring the safety of pedestrians is a top priority at DOT, and these proposed updates to NCAP are an important step in addressing the crisis of roadway deaths in America," said NHTSA Chief Counsel Ann Carlson in a statement. "Vehicles must be designed to protect their occupants while increasing safety for those outside the vehicle, too."
The way we see it, it's about damn time. Pedestrian deaths continue to rise in the U.S., and while other countries' roads are getting safer, roads in the U.S. are getting even more dangerous. Clearly, what we're currently doing isn't working. No one deserves to die for simply trying to cross the street. Hopefully, adding pedestrian safety tests will not only lead to safer cars but also add a stigma to driving oversized behemoths that are hard to see out of and are a danger to everyone.
The NHTSA is requesting public comments on the proposed testing changes for the next 60 days. So please, if you have time, head over here and consider submitting a comment in support of changing NCAP testing to include pedestrian safety.