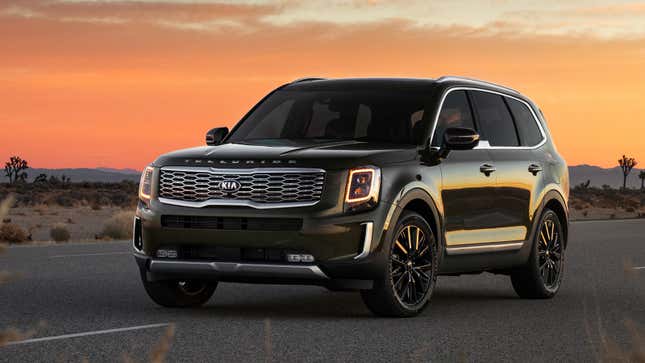 Happy National Highway Traffic Safety Administration Probe Day, everybody! On the same day the overworked department announced it's looking into almost 2 million Ford Explorers for windshield wiper trim ejecting itself at highway speeds, we've also learned that 2020 model-year Kia Tellurides are under investigation for a potential issue of their own. This one's a little less humorous though, as it involves the headlights.

Up to 87,000 examples of Kia's midsize SUV are now subject to a government probe after the NHTSA's Defects Office said it received 23 reports of high-beam failure, per Automotive News. In these instances, drivers have been unable to reengage the high beams. That's now prompted a "preliminary evaluation" — basically, NHTSA speaks for an investigation with the purpose of determining whether a recall is necessary.
Some of the complaints fielded by the agency reportedly mentioned that the headlight unit ultimately needed to be replaced to fix the problem. That may indicate that the issue isn't caused by an auxiliary part, nor software. Still, there's no telling what the culprit is or if the defect's widespread until the NHTSA relays its findings. It's worth noting that the department has not learned of any injuries or crashes related to the fault at this time.
This isn't the first time the Telluride has come under NHTSA spotlight. Last summer, some 36,000 SUVs — along with 245,000 Hyundai Palisades — were the subject of a recall due to a fire risk inherent in the vehicles' trailer hitch wiring harness module. The government directed owners not to park their cars under shelter until repairs were completed.
Flaky high beams may not pose quite so immediate a risk to safety, at least so long as low beams remain unaffected. But they're nevertheless annoying —for Telluride owners, anyway. For owners of sedans, hatchbacks, coupes and compact crossovers who have ever been followed closely by one of Kia's big SUVs, this is a time to be grateful for our eyes' brief-but-deserved respite. I'm sorry — I had to.